The pressure test in MasterChef Australia s1e11 was 'to complete four of Nigella Lawson's favourite chocolate dishes' – chocolate chip cookie dough pots, emergency brownies, chocolate olive oil mousse and ruby chocolate cheesecake.
The recipes, from the MasterChef Australia website can be found here
In September 2017 the chocolate and cocoa product company Barry Callebaut revealed the fourth type of chocolate (after dark, milk and white).
Ruby chocolate – in the form of a new KitKat – was introduced in Japan and Korea earlier this year. Fortnum & Mason stole a march on Nestlé  in the UK by launching the new chocolate a few days before the multinational.
Ruby chocolate KitKat went on sale in the UK on 16 April and in Australia on 3 May.
And from The Guardian …
'Ruby' becomes first new natural colour of chocolate in over 80 years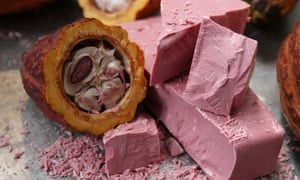 It claims to be the ultimate indulgence for the Instagram age, offering the traditional sweet hit of chocolate combined with the rush of a foodstuff that "pops" on camera and matching the colour of lurid yoga leggings.
Pink chocolate, which could hit UK supermarket shelves in six months, has been developed by Barry Callebaut, the world's largest cocoa processor. It is claimed to be the first new natural colour for chocolate since Nestlé unveiled white chocolate more than 80 years ago.
The flavour has been described by the company as "a tension between berry-fruitiness and luscious smoothness" but no extra colours or flavours are added to create the pinky hue, which instead comes from a powder extracted during the processing. It is not as sweet as milk chocolate, according to its creators, with a lighter flavour instead.
The "ruby" beans are grown in the Ivory Coast, Ecuador and Brazil, and Boone confirmed they were entirely natural and not genetically modified. "We don't add flavourings, we don't add colouring, or additives: it's purely coming out of this bean, and its all natural," he said. "It's a dedication to years of research into the artisanal processes of making chocolate. But it was also luck that we found this potential in the bean 13 years ago."
It's taken more than a decade for Barry Callebaut to fully understand how to process ruby chocolate and scale up the operation, but the arrival of pink chocolate on to the market coincides with a global trend of turning everyday food into a brightly coloured confection that looks particularly good on social media.
Recent phenomenons have included an obsession with black food, which began with black ice-cream and black burgers coloured with charcoal, then purple food coloured by beetroot, rainbow bagels and, more recently, kitsch, multicoloured unicorn toast and even Unicorn Frappuccini.
Barry Callebaut has already seized upon this trend in its marketing and Boone said the ruby chocolate satisfied the "hedonistic indulgence" of millennials. "It perfectly matches the food trends now, so I think the market will respond very positively to it," he said.
As the product has only just been revealed, the Zurich-based company is still working on making the chocolate available to consumers around the world, but Boone said it hoped to have it on shelves in between six and 18 months' time.
Early market research had shown a particularly high interest in China, a country not normally known for its chocolate consumption, but the company said there was huge enthusiasm from customers all around the world.
Boone said he had hoped the pink chocolate would become as popular as dark, milk and white in the future.
Sarah Phillips, who runs one of the most popular food-related Instagram accounts, predicted that pink chocolate would become an instant craze when it arrived. She said, however, its popularity depended on how the rose chocolate performed technically for melting, tempering, moulding and chocolate work
"It's fun, it looks beautiful and I think it will be a big hit," said Phillips. "There's a real appetite for colourful foods now, everybody's into rainbow smoothies and cakes on Instagram and all the brightly coloured smoothies and Buddha bowls that look like paintings. It's a huge trend that's only been getting bigger over this year.
"If they can definitely prove this is all-natural colouring – and if it definitely tastes nice – then I think it will be really popular."