Brilliant Books in Michigan says customers are owed apologies for portrayal of Harper Lee's long-lost manuscript as a 'nice summer novel' rather than an academic curiosity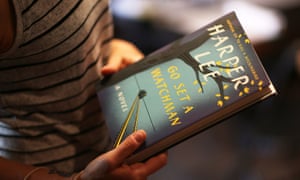 A US independent bookshop is offering refunds to its Go Set a Watchman customers, claiming that the work should be viewed as an "academic insight" into Harper Lee's development as an author, rather than as a "nice summer novel".
Brilliant Books in Traverse City, Michigan, has said that its "dozens" of customers for Go Set a Watchman are owed "refunds and apologies" over the way the novel has been presented. "It is disappointing and frankly shameful to see our noble industry parade and celebrate this as 'Harper Lee's New Novel'," the bookseller writes on its website. "This is pure exploitation of both literary fans and a beloved American classic (which we hope has not been irrevocably tainted). We therefore encourage you to view Go Set a Watchman with intellectual curiosity and careful consideration; a rough beginning for a classic, but only that."
Brilliant Books compares the novel to Stephen Hero, James Joyce's original draft of A Portrait of the Artist as a Young Man. "Hero was initially rejected, and Joyce reworked it into the classic Portrait," said the bookseller. "Hero was eventually released as an academic piece for scholars and fans – not as a new Joyce novel. We would have been delighted to see Go Set a Watchman receive a similar fate."
Speaking to independent publisher and blogger Melville House, Brilliant Books' owner Peter Makin said he decided to offer refunds after speaking to a "loyal paying" customer, who had only recently become aware of the history of Go Set a Watchman. The novel, which features an adult Scout, was written by Lee in the 1950s, but laid aside when her editor advised her to focus on its flashbacks to childhood, which went on to become To Kill a Mockingbird.
"She was saddened. She explained that To Kill a Mockingbird was her favourite book of all time and she had been so looking forward to reading Go Set a Watchman, but now she knew it wasn't the book she had been led to believe it was," Makin told Melville House. "I immediately apologised, and offered her a refund, which she accepted. I realised then that we needed to offer the same thing to all our customers, of which there were dozens across the country, and explain why."
The response to Brilliant Books' decision has been "overwhelmingly positive, humbling and touching", said Makin, who added that he was still selling Go Set a Watchman. "We are a bookstore, so we wouldn't not carry it, but we do explain to folks what it is, so that they buy it with their eyes open," he said.
Go Set a Watchman has been a No 1 bestseller since its release last month, despite a mixed reaction to the novel. The New York Times called it "a lumpy tale about a young woman's grief over her discovery of her father's bigoted views", expressing shock at the racist views spouted by the hero of Mockingbird, Atticus Finch. But the novelist Ursula Le Guin, writing on her blog yesterday, found it actually "asks some of the hard questions To Kill a Mockingbird evades".
"I'm glad, now, that Watchman was published," wrote Le Guin. "It hasn't done any harm to the old woman, and I hope it's given her pleasure. And it redeems the young woman who wrote this book, who wanted to tell some truths about the Southern society that lies to itself so much. She went up North to tell the story, probably thinking she'd be free to tell it there. But she was coaxed or tempted into telling the simplistic, exculpatory lies about it that the North cherishes so much. The white North, that is. And a good part of the white South too, I guess."