July – September 2016 : New SA Titles
Prices and publication dates subject to change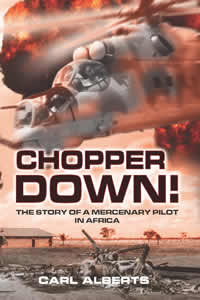 Carl Alberts | Chopper Down | 30º South 978-1-928211-78-5 | R295 | July
After twenty years of armed conflict in Angola and political instability in coup-ridden Sierra Leone going back to 1991, private corporate financial interests became the catalyst that spawned the creation of possibly the most successful private military corporation to date: Executive Outcomes (EO). With its initial task of securing Angolan government control in the Soyo oil-producing region, prompted by private oil interests,
EO subsequently became involved in the war against UNITA throughout the country. With little more that 100 of its own combat personnel on the ground in both the wars in Angola and Sierra Leone, the outstanding success that EO achieved was in no small part due to the force-multiplying effect and support given by its helicopter and jet pilots of the Air Wing.
This is the true story of the frustrations, personal sacrifices and too often the extreme risks that the aircrews took while flying in support of the ground offensives. Most of this was achieved with outdated equipment and aircraft that were seldom airworthy. Living under harsh conditions with the ever-present threat of enemy attack, as well as great risk from their ill-disciplined allies, the contribution these aircrews made to the overall success of the war effort was extensive.
Although EO costs were but a small fraction of the replacement United Nations forces, which were generally unsuccessful, international pressure to leave prematurely, led to renewed regional conflict with great loss of life. The author describes the realities of 'postwar syndrome', his subsequent failed business venture in Liberia and his involvement in the conflict in the Ivory Coast that brought about his arrest in South Africa for mercenary-related activities.
Andrew Bank | Pioneers of the Field | WUP 978 1 77614 012 1 | R350 | August
Focusing on the crucial contributions of women researchers, Andrew Bank demonstrates that the modern school of social anthropology in South Africa was uniquely female-dominated. The book traces the personal and intellectual histories of six remarkable women through the use of a rich cocktail of new archival sources, including family photographs, private and professional correspondence, field-notes and field diaries, published and other public writings and even love letters. The book also sheds new light on the close connections between their personal lives, their academic work and their antisegregationist and anti-apartheid politics. It will be welcomed by anthropologists, historians and students in African studies interested in the development of social anthropology in twentieth-century Africa, as well as by students and researchers in the field of gender studies.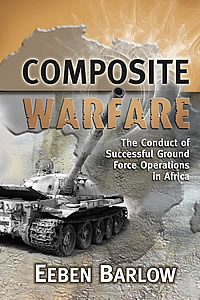 Eben Barlow | Composite Warefare | 30º South 9781928211761 | R350 | September
Composite Warfare presents African soldiers and scholars with a true African 'Art of War'. This book is intended as a guide and textbook for African soldiers and scholars who wish to understand the development of hostilities, strategy, operational design, doctrine and tactics. It also illustrates the importance of non-partisanship and the mission and role of the armed forces. It covers the role of government along with operations related to war, operations other than war and intelligence operations and how these operations, operating in a coordinated and unified manner, can secure and strengthen a government.
Composite Warfare draws on the author's experiences and lessons in Central, Southern, East, West and North Africa where he served numerous African governments as a politico-military strategist, division commander, division adviser, battalion commander and special operations commander.
Anthony Black | Towards Employment-Intensive Growth in South Africa | UCT Press 978 1 77582 007 9 | R450 | August
South Africa's high rate of unemployment (26.4%) makes it a complete outlier compared with other middle-income countries. Indeed, the unemployment rate rises to 36% if discouraged workers are taken into account. It underpins extreme poverty and inequality and is a major contributor to social dislocation. If it were not for increased social payments, poverty would have continued to increase since the advent of democracy in 1994. Unemployment also represents a huge cost to growth.
This book focuses on the growth path of the economy. The starting point is that while more rapid economic expansion is an important objective, at any given level of growth, the economy as a whole needs to become more labour-absorbing. The central question posed is how to bring about changes in the economic structure and pattern of development, which would lead to the attainment of this objective.
The authors argue that employment needs to be much more centrally positioned within the economic and social policy arena. They emphasise innovative approaches within a broader focus on the growth path, and employment-intensive growth. And they posit that the negative impact of previous 'distortions' requires much more than a levelling of the playing field via market-based reforms. Apart from presenting an alternative growth path which could start to shift the economy in new directions, the book tackles themes which have received only limited attention, such as wage subsidies, youth unemployment and employment growth in rural areas.
François Bloemhof | Double Echo | Penguin SA 9781485903093 | R220 | August
Ex-cop Paul Mullan has a lot more baggage than the rucksack he's carrying across the country. He's trying to get away from that night, that hour when life as he knew it came to an end.
When Paul helps wealthy businessman Bernard Russell to change his car's burst tyre near Riebeek-Kasteel in the pouring rain, Russell offers him shelter.
But the opulent wine estate Journey's End is no safe haven, and Paul soon senses that his life is about to resemble one of those old black-and-white movies: he is the fallible hero, a young woman in Russell's household the scheming femme fatale, and the outcome may be deadly.
Filled with tension, temptation, secrets and sleight of hand, Double Echo is seasoned Afrikaans thriller writer François Bloemhof 's exhilarating English debut.
Elsabé Brits | Emily Hobhouse | Tafelberg 9780624075745 | R320 | August
A fresh, nuanced look at an extraordinary woman and her lifelong fight for justice. Defying the constraints of her gender and class, Emily Hobhouse travelled across continents and spoke out against oppression. A passionate pacifist and a feminist, she opposed both the 1899-1902 Anglo-Boer War and World War One, leading to suspicions of treason. Elsabé Brits travelled in her footsteps to bring to life a colourful story of war, heroism and passion, spanning three continents.
Daniel Browde | The Relatively Public Life of Jules Browde | Jonathan Ball 9781868427208 | R260 | September
I sat there divided. Though my grandfather was visibly shaken by the force of this memory, and I knew I was seeing him more vulnerable than I had ever seen him, I felt a bubbly thrill because this was such good stuff, and I remember turning my eyes away from his distressed face to make sure the wheels of the dictaphone were still turning.

When Daniel is tasked with writing the biography of his grandfather, Jules Browde – one of South Africa's most celebrated advocates – he sharpens his pencil and gets to work. But the task that at first seems so simple comes to overwhelm him. As the book begins to recede – month after month, year after year – he must face the possibility of disappointing his grandfather, whose legacy now rests uncomfortably in his hands.
The troubled progress of Daniel's book stands in sharp contrast to the clear-edged tales his grandfather tells him. Spanning almost a century, these gripping stories compellingly conjure other worlds: the streets of 1920s Yeoville, the battlefields of the Second World War, the courtrooms of apartheid South Africa.
The Relatively Public Life of Jules Browde turns the conventions of a biography inside out. It is more than the portrait of an unusual South African life, it is the moving tale of a complex and tender relationship between grandfather and grandson, and an exploration of how we are made and unmade in the stories we tell about our lives.
Andrew Brown | Good Cop Bad Cop | PRH SA 9781776090952 | R220 | August
Once an enemy of the apartheid police, Andrew Brown has worked as a police reservist for almost twenty years. In this book he takes the reader on patrol with him – into the ganglands of the Cape Flats, the townships of Masiphumelele and Nyanga, and the high-walled Southern Suburbs.
Good Cop, Bad Cop is a personal account of the perilous and often conflicting work of a SAPS officer. Brown describes being shot at, arresting suspects in a drug bust, chasing down leads in a homicide investigation and keeping the peace during the UCT student protests.
Brown illustrates how difficult the job of the police is, and how easy it is to react with undue force. Yet he argues passionately that the role of the police is to be a service to communities and not a force to suppress social discontent.
Gripping and thought-provoking, this is a fascinating insight into the social fabric of current South Africa.
Karin Brynard | Our Fathers | Penguin SA 9781415206928 | R250 | August
In one of Stellenbosch's most affluent areas an apparent house break-in goes awry, leaving a millionaire property developer's beautiful wife dead. Inspector Albertus Beeslaar is reluctantly drawn into the investigation. Soon this picturesque town begins to reveal its dark underbelly.
Fifteen hundred kilometres to the north, Sergeant Johannes Ghaap is thrust into a drama of his own as he races to save a kidnapped woman and her child.

TV Bulpin | The Golden Republic | Protea Book House 978-1-4853-0568-2 | R275 | July
In the story of the The Golden Republic, Bulpin sets a stage on which we meet some of the strangest characters that fate had ever attached to the puppet strings of destiny. The grim Mzilikazi; the hot-headed Hendrik Potgieter and his trekkers; prospectors like Charlie the Reefer; gaudy rogues like Gunn of Gunn and his Highlanders; bandits, highwaymen, rand lords, gold rushers, to name just a few. He tells of leaders like Pretorius and Kruger, and many others who each played a part in establishing the Republic of the Transvaal – a seemingly impossible task considering all the small wars and skirmishes on the veld and the rumble of arguments rising out of each farmhouse.
In his remarkably engaging style of writing he sketches scenes of rough but beautiful land, which must have been fascinating to explorers who roamed about the old Transvaal with all its scenic novelties where every turn yielded some marvel for the geologist, the botanist, or the zoologist.
The Golden Republic tells of the adventure that raised the Republic to its peak and the complex intrigues that brought it down to the dust; of misfortune and riches, and despair of such magnitude that the birth of a Republic seemed inevitable considering the economic disaster it at times experienced … Until gold poked out its shiny head and gave hope again. The characters who crowded into diggers' towns were some of the wildest and most colourful ever known in the Transvaal. From all over South Africa they flocked to the scene, in the hope of finding fortune. Most of them were just opportunists, who knew nothing about gold except how to spend it.
This is a brilliant book of the birth, life and death of the old Republic written in the tell-tale style Bulpin does so well.

Colin Bundy | South African Poverty, Past and Present | Jacana 9781431424122 | R140 | July 
Co-published with Chicago University Press
Poverty is arguably the most pressing social, economic and political problem we face in South Africa. While the exclusion of the poor occurs in very many countries, in South Africa it has a distinctive extra dimension. Here, poverty has been profoundly racialised by law, by social practice, and by prejudice. Drawing on the work of economists, social scientists, and historians, this short introduction by Colin Bundy presents a powerful and insightful account of the history and nature of poverty in South Africa. Above all, it emphasises the lived experience of what it is to be poor, the reality suffered by millions of our fellow men, women and children
Mary Burton | The Truth and Reconciliation Commission | Jacana 9781431424108 | R140 | July 
Co-published with Chicago University Press
2016 is the twentieth anniversary of the first sitting of South Africa's Truth and Reconciliation Commission and provides a suitable moment to look back on the achievements, and the shortcomings, of the Commission's work. Even at the time of its existence, the TRC came in for criticism from a variety of quarters: both President Mbeki and ex-President FW de Klerk took legal action to challenge or prevent the publication of the Commission's report. But the Commission also fulfilled a vital and important role in the transition from apartheid to democracy, and it has become a model for other countries wishing to undertake similar journeys to deal with past atrocities and come to some kind of national resolution, reconciliation or closure.
Richard Calland | Make or Break | PRH SA 9781776090761 | R220 | August
The next three years will determine whether South Africa succeeds or fails in the long term.
Jacob Zuma's term as president is due to end in 2019, though he could go earlier. Who will succeed him and what will be the impact on policy?
The ANC's dominance has been significantly dented after opposition parties gained ground in the 2016 local government elections, but will the minority and coalition governments in key cities hold or fall apart?
The economy is in trouble, and the National Treasury has been buffeted by a struggle for power at the centre of government. Will Pravin Gordhan and his band of reformers survive and succeed?
The public protector's term ends in October 2016. Will her successor hold the line?
The judiciary is under pressure, and several positions have opened up on the Constitutional Court bench. Will the rule of law be maintained?
Looking at these and other issues, Richard Calland presents scenarios for the country's future, showing how the next few years are the most critical since the early 1990s, and how South Africa can set itself on a path to success or failure. It really is make or break time.
Michael Chapman | Gren in Black and White Times | UKZN Press 978 1 86914 319 0 | R245 | Forthcomong … 
In conversations – serious, humorous, ironic, ribald – internationally acclaimed poet-scientist Douglas Livingstone and leading literary critic Michael Chapman struck up a warm, at times iconoclastic friendship. Over lunch they exchanged opinions, insights and anecdotes, not only on poetry, science and society, but also on personal aspects of modern life: love and loss, sexual and spiritual intimations, and city living; generally, on the value of our 'uncommon humanity'.
Their conversations – recollected in this book – take readers through the black-and-white times of political turbulence in South Africa of the 1970s and 1980s to a climate, after apartheid, more attuned to Livingstone's abiding concern: how, as both scientist and poet, to heal the Earth, our only home.
Along the way, we meet a cast from Jan Smuts, Mohandas Gandhi and Albert Luthuli to Alan Paton, Mazisi Kunene, Breyten Breytenbach and the 'Soweto' poets. We shift abruptly from Nobel laureate Wole Soyinka to the TV soap, Dallas.
With clarity and wit, Michael Chapman intersperses the conversations with a fresh consideration of a unique achievement: Douglas Livingstone's journey into the 'two cultures' of art and science.
Sean Christie | Under Nelson Mandela Boulevard | Jonathan Ball 9781868426904 | R230 | August
Part memoir, part ethnography, Under Nelson Mandela Boulevard is journalist Sean Hunter Christie's account of time spent amongst the Tanzanian stowaways who live rough under the Nelson Mandela Boulevard flyover, at the foot of Cape Town.
After a year living in South Africa's most unequal city, the young Zimbabwean is introduced to serial stowaway Adam Bashili, through the photographer David Southwood. This encounter changes everything. Adam introduces the Christie to the extraordinary world of the "beachboys", a multi-port, fourth generation sub-culture of young men from the slums of Dar es Salaam, come to South Africa with the aim of stowing away on ships bound for other continents.
Under Nelson Mandela Boulevard presents Cape Town as it has not yet been seen: as a series of desperate social margents and cloying controls, but also of unbelievable and somehow hopeful beliefs and survival strategies.
Leading the author on an unprecedented tour of Dar es Salaam's underworld, followed by a madcap heroin run down Africa's east coast, Adam leads him to a trail-head of his own: a way beyond his largely perceived oppressions.
James Colman | Sani Pass – Revealing Its Secrets | Otterly Press 97809946753 | September
Sani Pass has evolved over 100 years, from a game track to a challenging and dangerous road through the Umkomazana valley, used by muleteers and later motor vehicles for moving goods between Natal and eastern Lesotho over the Drakensberg Mountains.
Mountain traders, missionaries, the Basotho people, a small garage and the Mokhotlong Mountain Transport Company form a backdrop to this fascinating story of the early days, interwoven with the author's experiences as a junior trading-store assistant who later became a tourist driver on Sani Pass. James Colman plied the treacherous route for 3 years. Intriguing stories about the politics, police, missionaries, traders and district commissioners in the area, as well as tales
of bravery, rivalry, camaraderie and daring, fill these pages.
Photographs graphically illustrate the beauty of the terrain and the people who make up the story. The book is a tribute to those who lived, worked and kept the peace in this remote region in those days.
Sam Cowen | From Whiskey to Water | MF Books 9781920601720 | R225 | August
"My name is Samantha and I'm an alcoholic. "At the time of writing, I've been sober for 13 years, 11 months and 16 days. And yes I still count. I promised I would never speak about it publicly until my children understood what that meant, that mommy was an alcoholic. I think they may have understood long before I did." From Whiskey to Water is the no-holds-barred memoir by one of South Africa's most loved radio talk show hosts, Sam Cowen. Having kept her alcohol addiction well away from the public eye for over 14 years, in this tell-all tale, Sam finds the courage to talk about her struggle with her addiction to whiskey, food and finally to a passion that saved her life – marathon swimming. Told in her characteristically hilarious dead-pan style, this is one of the bravest books you'll read this year. "So this is a book on how I stopped drinking? No, it's not. It's how I stopped drinking, started eating, became clinically severely obese, stopped eating (everything that wasn't nailed down) and swam my way to freedom. No, it's not. It's actually about addiction and learning and sadness and anxiety and love and drive. It's about channelling the unchangeable into the miraculous. It's about dragons and learning how to put them to sleep when you can't slay them. It's about being my own Daenarys."
Leon de Kock | Losing the Plot | WUP 9781868149643 | September | R380
In Losing the Plot, well-known scholar and writer Leon de Kock offers a lively and wide-ranging analysis of postapartheid South African writing which, he contends, has morphed into a far more flexible and multifaceted entity than its predecessor.
If postapartheid literature's founding moment was the 'transition' to democracy, writing over the ensuing years has viewed the Mandelan project with increasing doubt. Instead, authors from all quarters are seen to be reporting, in different ways and from divergent points of view, on what is perceived to be a pathological public sphere in which the plot– the mapping and making of social betterment – appears to have been lost.
The compulsion to forensically detect the actual causes of such loss of direction has resulted in the prominence of creative nonfiction. A significant adjunct in the rise of this is the new media, which sets up a 'wounded' space within which a 'cult of commiseration' compulsively and repeatedly plays out the facts of the day on people's screens; this, De Kock argues, is reproduced in much postapartheid writing. And, although fictional forms persist in genres such as crime fiction, with their tendency to overplot, more serious fiction underplots, yielding to the imprint of real conditions to determine the narrative construction.
Kenneth de Kok | Going Back | Kwela 9780795707841 | July | R195
In this finely observed memoir, Kenneth de Kok writes tenderly yet humorously about the relationship between fathers and sons, about family life, and about childhood. The work unearths the physical and psychic landscape of Stilfontein, a small mining community in the Western Transvaal, in the 1950s. The narrator gives voice to his own secret pleasures and fears, while vividly recreating the topography that dominates his world.
A sensitive and rare account of the hierarchies, privileges and prejudices of white mining experience, as seen through the eyes of a boy.
AB de Villiers | AB – The Autobiography | Pan Macmillan SA 9781770104488 | R? | Q3
This is AB's story, in his own words … the story of the youngest of three talented, sports-mad brothers growing up in Warmbaths, of a boy who excelled at tennis, rugby and cricket, of a youngster who made his international debut at the age of 20 and was then selected in every single Test played by South Africa for the next 11 seasons, of a batsman who has started to redefine the art, being ranked among the world's very best in Test, ODI and T20.
Through all the pyrotechnics and consistency, AB has remained a true sportsman – quick to deflect praise, swift to praise opponents, eager to work hard, to embrace the team's next challenge and to relish what he still regards as the huge privilege of representing his country.
This is the story of a modern sporting phenomenon.
Alain Dubresson and Sylvy Jaglin | Eskom – Electricity and Technopolitics in South Africa | UCT Press 9781775822158 | R250 | August
Africa's leading producer of electricity, Eskom Holdings SOC Ltd, is also a vertically integrated monopoly, owned by the South African state. This national champion was shaken in 2008, when it was obliged to introduce 'load shedding', or rolling blackouts, and again in late 2014.
Trying to understand how and why one of the iconic pillars of South African state capitalism is now in distress, the authors of this book argue that the so-called electricity crisis is in fact a public monopoly crisis. Moving beyond technical aspects, they explore the relationship between state power and Eskom before, during and after apartheid. From this perspective, they suggest that the current technical and financial troubles of this public utility are illustrative of the weakening of its technopolitical regime, of how national institutions have governed Eskom's technological development, and of the pursuit of political goals in the production of electrical power. Without a clear industrial strategy during the 2000s, Eskom became a powerful tool of Broad-Black Economic Empowerment as well as a neopatrimonial system which generates profits captured by the ruling party. As a result, crisis in Eskom shakes the whole political edifice.
Inefficient and its finances increasingly under scrutiny, this state-owned enterprise's existence as a monopolistic public utility is regularly a subject of debate. The authors discuss the ambivalent role of Eskom in the national energy transition policy and whether solutions point in the direction of de-integrating this public monopoly and allowing its current technopolitical regime to enter a planned or natural decline.
Marijke du Toit and Jenny Gordon | Breathing Spaces | UKZN Press 978 1 86914 279 7 | R245 | Forthcoming …
This is a book of environmental portraits, composed of photographs taken in the first decade of the twenty-first century, a few years after South Africa's transition to constitutional democracy. It explores how photographic images can move us, can unlock personal and shared memories, can prompt public debate, can unsettle us and challenge us to think about alternative environmental futures. The photographs inBreathing Spaces explore the relationship between people and three neighbourhoods located south of Durban harbour: Wentworth, Merebank and Lamontville.
Durban's densely populated southern basin is well known as a flashpoint of pollution perpetrated by South African industries and transnational petrochemical corporations. It is also known for the conflict over plans for further, dirty economic growth.
Breathing Spaces presents portraits of people and living spaces taken by social documentary photographer Jenny Gordon. These are interleaved with reproductions of images from family albums and are variously accompanied by extracts from Marijke du Toit's conversations with the people portrayed, their friends, family and neighbours. A selection of photographs taken by local residents who participated in photographic workshops and exhibitions, held in the particular neighbourhoods, are also included. As a composite portrait, this book presents long histories of personal, communal and familial places in South Durban. It explores the possibilities of photography through conversation, and conversation through photography. It is about the struggle to take personal breath against social and environmental injustice.
Ekow Duker | The God Who Makes Mistakes | Picador SA 9781770104259 | R? | Q3
Behind the closed doors of their suburban Johannesburg home, Themba and Ayanda Hlatshwayo, both legal professionals, are beset by deep tensions that claw with relentless intensity at the polished facade of their lives. Ayanda seeks solace in dance classes, while Themba is increasingly drawn to the male companionship he finds at a book club.
With wit and sympathy, The God Who Made Mistakes explores the origins of Themba's unease and confused sense of identity. It takes us back to a river bank in Alex, the township where he grew up, and to a boy he once knew who met a violent death there. As the story peels back the painful layers of recollection, Themba's domineering mother, Differentia, has a major decision to make. When developers set their sights on buying the family home and building a supermarket in its place, tendrils of envy and greed begin to curl out of unexpected quarters, as the unscrupulous seek to grab a share of the spoils. Back yard tenant, Tinyiko, with her short skirts and questionable morality, and Themba's disgraced, unemployed elder brother, Bongani, begin to plot and scheme, while across town Themba's fragile marriage faces its biggest challenge. When his past walks unexpectedly into his present, it threatens to blow apart his carefully constructed world.
The God Who Made Mistakes is a powerful, poignant story of unexpressed longings which, when finally uttered, can no longer be contained.
Paul Duncan | Hidden Johannesburg | PRH SA 9781770079922 | R395 | August
Johannesburg: Egoli to some, Jozi to others. Once a mining town, now the most important commercial city in Africa. It's been home to renegades and rogues, colonialists and capitalists, the dispossessed and the newly enriched. Today it's populated by those who call themselves Africans or Afrikaners, by blacks, whites and every shade inbetween, and by immigrants from all over.
There are suburbs where the daily rituals of Jewish culture rival New York's; elsewhere, the tone is more Lagos than laid-back. Remnants of the colonial era stand alongside contemporary steel and glass. In a town that prides itself on the pursuit of fortune, it's a challenge to preserve heritage, and it is against this background that Hidden Johannesburg  offers a snapshot of 28 notable buildings.
From the stately mansions of the Randlords to their downtown headquarters, the clubs where they socialised and the churches where they worshipped, the architecture of early Johannesburg lives on in sandstone, granite, marble and slate. But this is a city that constantly reinvents itself, and where the old is all-too-readily demolished to make way for the next 'big thing'. Some buildings will survive, others will be consigned to memory.
Hidden Johannesburg  reveals fragments of the history of this vibrant city but, perhaps, the book also tells us something about our future, for if we allow our heritage to be swept away in the name of progress, are we advancing at all?
CONTENTS
Anglo American (44 Main Street), Anstey's Building, Bedford Court (St Andrew's School for Girls), Cathedral of Christ the King, City Hall, Corner House, Freemason's Hall, Gleneagles, Glenshiel, Greek Orthodox Church, House Edoardo Villa, Lion's Shul, L. Ron Hubbard House, Nelson Mandela House (Vilakazi Street), Nizamiye Masjid, Northwards, Park Station, Radium Beer Hall, Rand Club, Satyagraha House (Gandhi House), St Charles Borromeo Catholic Church,
St George's Anglican Church, St John's College, St Michael and All Angels, The Old Fort, The View, Villa Arcadia, Whitehall Court
Fritz Eloff | Hunters of the Dunes | Protea Book House 9781485306009 | hbk, colour photographs | R295 | August
The renowned zoologist Fritz Eloff became interested in the Kalahari lion in 1958 when he first heard a lion roaring from the red dunes surrounding the camp. So impressive was the earth-trembling sound that he decided to devote his studies to these predators. This meant that he also had to become familiar with the Kalahari, its dust, its intense heat during the day and freezing cold nights, its vegetation, all the mammals and birds that form part of the lion's food chain as well as the other predators the lion has to compete with. This book is the result of 40 years of extensive research and numerous exciting adventures.  Written in an accessible style, it imparts information about the physical characteristics of the Kalahari lion, its habitat, role in the ecosystem and interaction with humans. The book concludes with the stories of a number of legendary male and female lions, and the author's view on the survival of these magnificent animals in an ever changing environment.
Stephen Francis and Rico | Madam & Eve – Take Me to Your Leader | Jacana 9781431424306 | R160 | September
This year we are in for a treat, with Madam & Eve back with more cartoons looking at domestic life and politics in the New South Africa. Madam & Eve cartoons appear regularly in the Mail & Guardian, The Star, The Saturday Star, Herald, Mercury, Witness, Daily Dispatch, Cape Times, Pretoria News, Diamond Fields Advertiser, Die Volksblad, EC Today, Kokstad Advertiser and The Namibian.
Andrew Hartnack | Ordered Estates | UKZN Press 978 1 86914 325 1 | R430 | Forthcoming …
There is a growing body of work on white farmers in Zimbabwe. Yet the role played by white women – so-called 'farmers' wives' – on commercial farms has been almost completely ignored, if not forgotten. For all the public role and overt power ascribed to white male farmers, their wives played an equally important, although often more subtle, role in power and labour relations on white commercial farms. This 'soft power' took the form of maternalistic welfare initiatives such as clinics, schools, orphan programmes and women's clubs, most overseen by a 'farmer's wife'. Before and after Zimbabwe's 1980 independence these played an important role in attracting and keeping farm labourers, and governing their behaviour. After independence they also became crucial to the way white farmers justified their continued ownership of most of Zimbabwe's prime farmland.
This book provides the first comprehensive analysis of the role that farm welfare initiatives played in Zimbabwe's agrarian history. Having assessed what implications such endeavours had for the position and well-being of farmworkers before the onset of 'fast-track' land reform in the year 2000, Hartnack examines in vivid ethnographic detail the impact that the farm seizures had on the lives of farmworkers and the welfare programmes which had previously attempted to improve their lot.
Michelle Hattingh | I'm the Girl Who was Raped | Modjaji 9781920590628 | R200 | July
That morning, Michelle presented her Psychology honours thesis on men's perceptions of rape. She started her presentation like this, "A woman born in South Africa has a greater chance of being raped than learning how to read …" On that same evening, she goes to a party to celebrate attaining her degree. She and a friend go to the beach; the friend has something she wants to discuss. They are both robbed, assaulted and raped. Within minutes of getting help, Michelle realises she'll never be herself again. She's now "the girl who was raped."
This book is Michelle's fight to be herself again.  Of the taint she feels, despite the support and resources at her disposal as the loved child of a successful middle-class family. Of the fall-out to friendships, job, identity. It's Michelle's brave way of standing up for the many women in South Africa who are raped every day.
Sue Hickey and Philippa Sklaar | The Affair: Recovery From Illicit Sex, Lies and Betrayal | MF Books | R230 | August
The Affair is a unique self-help book that examines the psyche of both perpetrators and victims of affairs and anyone who struggles with monogamy and fidelity. Written by expert relationship therapist Sue Hickey, along with her client Philippa Sklaar, who has cheated and been cheated on, the book delves into true personal confessions of men and women, old and young, lovers and opportunists who have experienced betrayal and have betrayed. The duo earlier collaborated on the relationship bestseller When Loving Him Hurts (MF Books Joburg, 2015). The Affair provides invaluable insights, guiding people through one of the most challenging times in a relationship by unpacking the nature of affairs, profiling various cheaters from narcissists to sexual predators, while guiding the reader through the pitfalls and pain in the inevitable fallout of betrayal. It provides practical advice, like how to deal with the crises immediately after discovering the affair and how to use money to save yourself or your marriage. It teaches you how to be hurt without losing your dignity and sanity, and cautions against searching for sordid details at the risk of feeding unnameable jealousy. Challenging issues like struggling with forgiveness, dealing with the children in the relationship, and mastering difficult conversations after an affair are expertly dealt with by Sue Hickey, who has almost 30 years of experience as a therapist. Ultimately, The Affair navigates the reader through the pain and anguish of betrayal to a place of self-healing that is required by both perpetrators and victims to move forward. The overriding message is that with deep soul searching and guidance, both forgiveness and redemption are possible. The book reveals that reconciliation and a deeper love is possible by unreservedly accepting the truth and love's challenges.
Bridget Hilton-Barber | Student, Comrade, Prisoner, Spy | PRH SA 9781770228009 | R230 | August
When Bridget Hilton-Barber got on a train to Grahamstown in 1982 to study journalism at Rhodes University, she had no idea of the brutal drama that would unfold.
A rebellious young woman, she became politically involved in anti-apartheid organisations and was caught up in the massive resistance and repression sweeping the Eastern Cape at the time. She ended up spending three months in detention without trial, and after her release discovered she had been betrayed by one of her best friends, Olivia Forsyth, who was a spy for the South African security police.
Thirty years later, a horrific flashback triggers Bridget's journey back to the Eastern Cape to see if she can forgive her betrayer and finally let go of the extraordinary violence she encountered in the final days of apartheid. This is her powerful story.
Mehita Iqani | Consumption, Media and the Global South | UKZN Press  978 1 86914 326 8 | R305 | Forthcoming …
What does consumption in the global south signify, and how are its complexities communicated in media discourses? Consumption, Media and the Global South presents original research examining key themes in the ways in which consumption in the global south – by elites, the middle classes, and the poor – is discursively constructed in media texts.
With the global triumph of capitalist economies and neoliberal values, consumption is increasingly viewed by populations in the global south as both a right to which they are denied access, and once accessed as evidence of an improved life. The ways in which this debate plays out on the stage of the media is an important element of the picture. This book looks at the media representation of consumer culture in Africa, China, Brazil and India through case studies ranging from celebrity selfies, to travel websites, news reports and documentary film.
Vashna Jagarnath | Winnie Mandela  | Jacana 9781431424115 | R140 | July 
Co-published with Chicago University Press
Winnie Madikizela-Mandela has been both an icon of the political struggle in South Africa and a controversial and polarising figure. Any adequate biography has to take full account of her complexity as a person, how she has changed over the years, and the historical context of her life. This book offers a refreshing, engaging and nuanced account of Winnie MadikizelaMandela by examining the ways in which she has been represented over time, and the ways in which she has represented herself: as Nomzamo from Bizana, the beautiful young bride, the political widow, the Mother of the Nation, the radical activist, Lady Macbeth and so on. The evidence shows that she consistently refused to be constrained by an orthodox understanding of the role of women or of a wife or mother. While being attentive to her relationship with Nelson Mandela as both person and idea, the book presents Winnie Madikizela-Mandela as an important political actor in her own right.
Phillippa Kabali-Kagwa | Flame and Song | Modjaji 9781928215219 | R250 | August
Philippa Namutebi Kabali-Kagwa's soul-warming memoir tells of a life enriched by song, literature, food and spirituality at the heart of a loving family. Born into a newly independent Uganda, she grew up in a volatile political landscape but never lacked the inspiration and protection of generations of friends and relatives. Her story travels from her expansive childhood homes in Uganda, to the novelties of living in Addis Ababa, before settling in Cape Town, her current home. But no matter how far her journeys take her, it's clear that home is not only about places but people.
Thembela Kepe et al | Domains of Freedom | UCT Press 9781775822042 | R320 | August
After 20 years of freedom in South Africa we have to ask ourselves difficult questions: are we willing to perpetuate a lie, search for facts or think wishfully?  Freedom has been enabled by apartheid's end, but at the same time some of apartheid's key institutions and social relations are reproduced under the guise of 'democracy'.
This collection of essays acknowledges the enormous expectations placed on the shoulders of the South African revolution to produce an alternative political regime in response to apartheid and global neo-liberalism. It does not lament the inability of South Africa's democracy to provide deeper freedoms, or suggest that since it hasn't this is some form of betrayal. Freedom is made possible and/or limited by local political choices, contemporary global conditions and the complexities of social change. This book explores the multiplicity of spaces within which the dynamics of social change unfold, and the complex ways in which power is produced and reproduced.  In this way, it seeks to understand the often non-linear practices through which alternative possibilities emerge, the lengthy and often indirect ways in which new communities are imagined and new solidarities are built.  In this sense, this book is not a collection of hope or despair.  Nor is it a book that seeks to situate itself between these two poles. Instead it aims to read the present historically, critically and politically, and to offer insights into the ongoing, iterative and often messy struggles for freedom.
Fred Khumalo | # Zuptas Must Fall | PRH SA 9781776091072 | R220 | August
Who are these Guptas who are so powerful, they're distributing cabinet posts like matrons handing out condoms at a brothel? Who do Americans think they are, accusing Trevor Noah of 'stealing' a joke from one of their comedians? Is Sizakele MaKhumalo Zuma's spaza shop a National Key Point? 
In #ZuptasMustFall, and other rants, Fred Khumalo runs riot, contemplating the pressing issues that continue to confound, infuriate and exasperate the nation – or to sink it into further controversy.
Covering a wide range of topics, including politics, history, current events and celebrity gossip, this compilation of recent and new writings contains Khumalo's trademark blend of humour and shrewd analysis, as well as his treatment of everyday issues from a uniquely South African perspective.
This is an entertaining collection of thoughts from one of the country's most seasoned journalists, offering many questions, and tongue-in-cheek answers, on who we are as a nation, where we are going, and how we compare to the rest of the world.
Click here to read an extract.
Jamaine Krige | Justice Served? | PRH SA 9781770229808 | R210 | August
In 1992, former Grand Slam tennis champion Bob Hewitt was inducted into the International Tennis Hall of Fame. In 2012, he was indefinitely suspended following multiple allegations of sexual misconduct from women he coached as young girls.
On 23 March 2015, Hewitt was found guilty of two counts of rape and one of sexual assault after a watershed trial that has changed the legal landscape and how the South African judicial system prosecutes historic rape.
This book takes the reader behind the scenes of the trial that shook the foundations of the international sporting world. It follows the case against Hewitt instituted by Suellen Sheehan and two fellow accusers, only a few of the dozens of survivors who allegedly suffered abuse at his hands. The result was a six-year prison sentence handed down to the frail 75-year-old, more than 30 years after his crimes.
Justice Served? The Trial and Conviction of Bob Hewitt covers various perspectives of the trial, from that of the state prosecutor to the defence advocate and other key role-players, includes Hewitt's appeal of sentence in 2016, and chronicles the spectacular fall from grace of a world-famous tennis legend.
Bronwyn Law-Viljoen | The Printmaker | Umuzi 9781415209127 | R250 | August
When a reclusive printmaker dies, his friend inherits the thousands of etchings and drawings he has stored in his house over the years. Overwhelmed by the task of sorting and exhibiting this work, she seeks the advice of a curator.
What compulsion drove the printmaker to make art for four decades, and why did he so seldom show his prints?
When the curator discovers a single, sealed box addressed to a man in Zimbabwe, she feels compelled to go in search of him to present him with the package, hoping to find an answer to the enigma of the printmakers solitary life.
Tracy Ledger | An Empty Plate | Jacana 9781431424238 | R240 | Sept 
This book shows how the South African food system operates and how it has far-reaching and often devastating effects on land, people and poverty. This story is fundamentally about power – who has it, who doesn't, and why. It attempts to answer these two questions: How did we get to this position, where the financial interests of the few have effectively been deemed more important than the wellbeing of the vast majority? And how could we go about changing this and build for ourselves a more equitable and just system? Most South Africans – even in rural areas – do not produce any of their own food or purchase it directly from farmers. Instead we buy our food from retailers or fast food outlets or restaurants or informal traders. In addition, a growing proportion of what we eat has been modified from its 'natural' state; processed and flavoured and packaged into something very different than what left the farm. In its journey from field to plate most agricultural produce passes through a number of intermediaries – wholesalers, processors, distributors, supermarkets – before it arrives as our dinner. Most of us do not give much thought to how our food gets to our plates, or how our choices of what to feed our families can have devastating impacts for someone else's family. When we start to think about the provenance of our food as located in a complex system we begin to see that every activity and every participant is connected. While farming incomes decline and farm workers struggle to feed their families, the profits of South Africa's food retail giants and big processors increase. While farms go out of business and farm workers lose their jobs, the number of supermarket outlets increases each year. The big four supermarket groups in South Africa now control more than two-thirds of the retail food market. Much of this profit growth has been derived from a steady increase in the difference between what farmers get paid and what consumers pay  for food. The gap has increased for almost every other basic food item over the past twenty years. Food insecurity, the failure of land reform and the rising cost of food are not inevitable outcomes – rather they reflect just one way of organising our food system. Things could be very different, and all around South Africa there are individuals and communities who are fighting for and building alternatives
Lucas Ledwaba and Leon Sadiki | Broke and Broken | BlackBird Books 9781928337300 | R195 | August
Zwelendaba Mgidi is dying. He is a depressed, sickly man who cannot even leave his home or perform the simplest of duties such as gardening. He used to be a very fit man; a boxer and road runner full of life and energy. But the 28 years he spent working underground in the mines of South Africa's Gold Fields in the Free State have left him a wreck. In 2008, aged 48, he received devastating news. The Medical Bureau for Occupational Diseases diagnosed him with silicosis, "an irreversible, progressive, incurable and at a later stage disabling and potentially fatal disease." Mgidi was recruited for the mines by The Employment Bureau of Africa (TEBA) when he was only 18 years old in 1978. When he returned home at the age of 51, he was a shadow of the man he once was. This is the fate that has befallen hundreds of thousands of African men who, since the gold rush of Johannesburg in 1886, were recruited from their villages to provide cheap labour on the gold mines of Transvaal and the Free State. Broke and Broken: The Shameful Legacy of Gold Mining in South Africa explores the exploitation, the blatant disregard for health and safety regulations whose implications continue to be felt in rural villages far away from the imposing mine shafts.
Megan Lewis and Anton Krueger | Magnet Theatre | UNISA Press 9781783205370 | R490 | July
Cape Town's Magnet Theatre has been a positive force in South African theatre for three decades, a crucial space for theatre, education, performance, and community throughout a turbulent period in South African history. Offering a dialogue between internal and external perspectives, as well as perspectives from performers, artists, and scholars, this book analyses Magnet's many productions and presents a rich compendium of the work of one of the most vital physical theatre companies in Africa.
Sophia Lindop | Spices, Flavours and Traditions | Jacana 978143142425 | R150 | September
Sophia Lindop has produced a book telling the tale of the two main influences, namely the Indian population and the Malay population, and how these eating habits influenced the rest of our country in such a way that these recipes are now part of our national heritage. In medieval times spices were a commodity reserved solely for the wealthy. And as it goes, these individuals created such a demand for its production and trade that wars ensued where many brave men risked and lost their lives. This is hard to imagine when "Please pass me the pepper" is a simple request in today's world. The tale of spices begins before the creation of the world when, according to Assyrian myth, the gods sipped on a spiced wine before they commenced the mammoth task of creating the earth. And in Egypt, in the Great Pyramid of Giza, hieroglyphics tell of the consumption of spices, garlic and onion to build up the strength of the people. Ancient Sumerians began to use spices medicinally as long as five thousand years ago. The Chinese claim that they had been using more than 300 kinds of herbs and spices in medicines around that time too. Some three thousand years ago ancient Egyptians were embalming their dead using spices, among other things, while, in Biblical times, Joseph was sold into slavery to passing spice merchants by his envious brothers. And, while all this was going on, the Romans used spices to perform sorcery and magic. Today pumpkin without cinnamon, potatoes without nutmeg and a curry without ginger is unimaginable, so, even now, all around the world, spices are still making magic …
Rob Little | Terrestrial Gamebirds & Snipes of Africa – Guinea Fowls, Francolins, Spurfowls, Quails, Sandgrouse & Snipes | Jacana 9781431424146 | R280 | September
This definitive, full-colour monograph on the gamebirds and snipes of Africa includes everything needed to better understand the 74 species that fall into six groups: guineafowls and Congo peafowl, francolins and partridges, spurfowls, quails, sandgrouse and the snipes and Eurasian woodcock. Terrestrial Gamebirds & Snipes of Africa offers a concise summary of the large but scattered body of accumulated scientific research and field-guide literature on these birds. Pertinent and interesting facts about the description, distribution, habits, feeding, breeding and conservation of each species are presented in a readable fashion. Illustrative photographic plates convey the appearance, characteristic features, behavioural activities, and in many cases the habitat environment of each bird. Terrestrial Gamebirds & Snipes of Africa will be a worthy addition to the ornithological literature and to the bookshelves of bird enthusiasts, particularly birders, wing-shooters, land owners and anyone with an interest in nature and conservation, throughout Africa and across the rest of the world.
Ishara Maharaj | Namaste Life | Modjaji 978-1-928215-36-3 | R200 | June
Surya and Anjani are twins, but they could not be more different. Anjani is calm, devout and responsible, while Surya just wants to party the days away.
Irikidzayi Manase | White Narratives – The Depiction of Post-2000 Land Invasions in Zimbabwe | UNISA Press
978-1-86888-825-2 | R310 | July
The post-2000 period in Zimbabwe saw the launch of a fast-track land reform programme, resulting in a flurry of accounts from white Zimbabweans about how they saw the land, the land invasions, and their own sense of belonging and identity. In White Narratives, Irikidzayi Manase engages with this fervent output of texts seeking definition of experiences, conflicts and ambiguities arising from the land invasions. He takes us through his study of texts selected from the memoirs, fictional and non-fictional accounts of white farmers and other displaced white narrators on the post-2000 Zimbabwe land invasions, scrutinising divisions between white and black in terms of both current and historical ideology, society and spatial relationships. He examines how the revisionist politics of the Zimbabwean government influenced the politics of identities and race categories during the period 2000–2008, and posits some solutions to the contestations for land and belonging.
Munzhedzi James Mafela | Nelson Rholihlahla Mandela | Unisa Press 9781868887965 | R280 | July
In this innovative anthology of essays, Munzhedzi James Mafela brings together voices that give a radically fresh perspective on the life and work of Nelson Mandela. In a ground-breaking multilingual context, contributors view the life of Mandela through the prism of poetry written about him. The poetry, in a number of indigenous southern African languages with translations, is interpreted and analysed, thus bringing previously scattered, neglected or unknown material into the public domain.
Since Mandela's release from jail, much has been published on his life, including poems in various languages. This publication is distinguished from all of them as a garnering of scholarly research into selected African indigenous poetic works about Mandela, and in this way the volume serves as an appreciation and critical appraisal both of the man and of the poetry about him. Through the poetry, the writers examine aspects of Mandela's early life, his leadership and character, his role as a freedom fighter, and the element of alienation in his life. Their offerings present a rare and original insight into the life of the man as it unfolds.
Together, poets and interpreters weave a wide net, drawing in the interest not only of literary and political science scholars, but also sociolinguists, sociologists, historians, and anthropologists interested in literary anthropology – in fact, anyone interested in the life and work of Nelson Mandela.
Nape 'a Motana | Hamba Sugar Daddy | Jacana 9781431424221 | R195 | August 
They have lost their youth, but gained enough wealth to buy the company of many young "cherries", that is the story behind the life of a sugar daddy. "Young girls warned to stay away from sugar daddies… " Karabo Ngoepe – The Sowetan Meet Rolivhowa Ramabulana, a grade 12 pupil whose financial difficulties are exploited and influenced by Kedibone Mahlope and her group of chomi's into being a sugar baby. Rolivhowa's whole lifestyle changes after meeting Bigvy Masemola, the sugar daddy; she no longer eats the same food as she had like other financially challenged students and is now able to afford expensive clothing and carry the latest costly phone. Bigvy has introduced her to a new lifestyle but at what cost? While sugar daddies are not a new phenomenon, their latest incarnation could be described as a symptom of the "new" post-1994 South Africa with its rampant consumerism and glittering shopping malls, prevalent enough in South Africa for it to have created an acceptable subculture. The unstoppable rise of social media and easier internet access has led to the creation of websites that offer a 'hook up' and the engagement in transactional sex. Young women can now meet and hook up with various sugar daddies who will provide the lifestyle they desire at the click of a button. There is more temptation for those looking for financial and material support in a climate of growing poverty. Back in the family home, parents who struggle to put one meal a day on the table for their family don't ask questions about where the money comes from. Rolivhowa's mother accepts the relationship since Bigvy supports them financially. Rejecting to heed the warnings of Khomisa Maluleka, a fellow student and born-again Christian, about her 'sinful ways', she continues her relationship with Bigvy. Only later does she begin to feel the bitter after-taste of a sweet life and in her devastation of discovering her HIV status, Khomisa becomes a pillar of support.
Paul McNally | The Street | Pam Macmillan SA 9781770104563 | R? | Q3
There are no villains here. Award-winning journalist Paul McNally finds corrupt cops, drug dealers, vigilante residents, addicts, torturers, murderers and cops partnered with drug dealers. But no villains.
Raymond is a shop owner on Ontdekkers Road, in Johannesburg, who takes a baseball bat to the dealers when they break his rules. He systematically records in his notebook the police officers who come – all day, every day – to collect their bribe money from the dealers, and is looking for someone to trust.
Khaba is a middle-aged police officer who wants a quiet life but whose demons will not leave him in peace.  He is trying to regain his trust in what he once regarded as an honourable profession.
Wendy is a petite, ageing police reservist who can handle an R5 rifle with confidence, but not the sadness that accompanies her in her daily life – the loss of her police officer husband, brutally murdered by a drug lord, and the addiction that has her adult son in its grip. She is looking for respect and affirmation and for her own life to have meaning.
Through different paths, the lives of Raymond, Khaba and Wendy intersect on the street as their attention is focused on the current power couple – a drug dealer named Obi and Lerato, a police officer. Seemingly untouchable, Obi and Lerato terrorise Ontdekkers, and in the process upset the balance of this already lawless world.
S'Thembiso Msomi | Mmusi Maimane | Prophet or Puppet? | Jonathan Ball  9781868427086 | R200 | July

In the afternoon of May 10, 2015, Mmusi Maimane was announced as the new leader of the Democratic Alliance, beating his opponent by a huge margin. It was an historic event because it marked the completion of the DA's transformation from a 'white' political party to one whose new leader shared similar experiences to those of the majority of voters. Thus a highly intelligent and charismatic young man is thrust onto centre stage. But who is the real Mmusi Maimane? Experienced political reporter S'Thembiso Msomi goes behind the scenes to examine how and why Maimane rose to head up the opposition. He delves into Maimane's formative years, his time at the pulpit in the church, and his family, to bring substance to the man. Finally, the author attempts to answer these burning questions: is Maimane his own man, and can he deliver the electorate that the DA so fervently desires?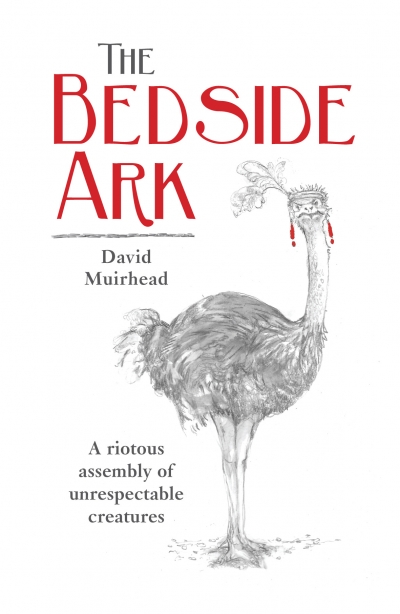 David Muirhead | The Bedside Ark | PRH SA 9781775844617 | R160 | August
This riotous assembly of unrespectable creatures comprises 42 short accounts of southern Africa's vibrant collection of wild animals.
From the one-of-its-kind aardvark to the wilfully ignorant ostrich; the Houdini-like honey badger to the precariously specialised klipspringer; and from the curvaceous, sports-model springbok to the recklessly insensitive hyena – this book airs the dirty laundry (and shares the trade secrets) of some of our wackiest, most eccentric fauna. Many of the stories are illustrated with delightful line drawings.
Basing his accounts on accurate, true-to-life detail, but always looking on the light side, author David Muirhead captures the weird and wonderful lives of his subjects, investigating their often exaggerated reputations, their habits, weaknesses, armouries and modi operandi.
At once informative and hugely entertaining, this riotous assembly will appeal to anyone with the slightest interest in wildlife and – for its excellent entertainment value – will make a particularly wonderful gift.
Bill Nasson | History Matters | PRH SA 9781776090273 | R280 | August 
History Matters  is an eloquent selection of writings over four decades by Bill Nasson, one of South Africa's most popular and highly respected historians.
The pieces in this compendium are lively and entertaining, written with wit, humour and a finely tuned sense of irony.
Chapters cover the Anglo-Boer War, the two World Wars, cricket, District Six, schooldays and education, Spike Lee, Hollywood and history, Mandela and other political biographies, and a great many other topics.
Resembling a pudding of spicy plums, this is a perfect book for anyone interested in South Africa and its history, and in a broader appreciation of tweaking the tail of life in the past.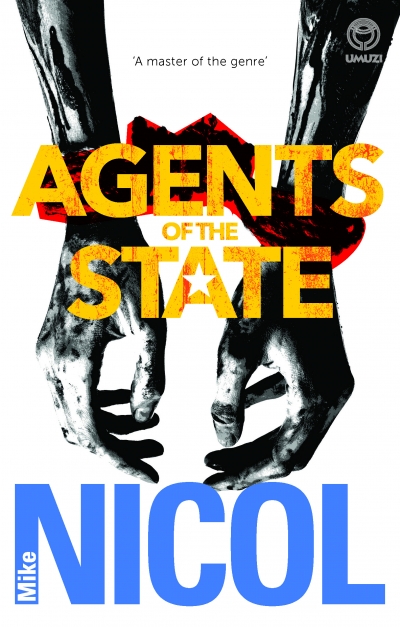 Mike Nicol | Agents of the State | PRH SA 9781415207185 | R230 | August 
Bring in the child tracker. That's Agent Vicki Kahn's assignment, her first foreign mission for the State Security Agency. That the child tracker is a top fashion model with connections to the president's son is an added complication. Especially when Vicki watches as the model's limp body is wheeled away at Schiphol airport. Then, in Berlin, she finds her contact dead on the kitchen floor, shot in the head. Get out, Vicki's instincts tell her. Get out now.
Vicki's lover, PI Fish Pescado, is working another case. Find out who shot my husband, is his brief. The husband: a rebel colonel from the Central African Republic taken down in a spray of bullets on the steps of St George's Cathedral. As Fish digs he comes up against a local connection: none other than the South African president. Drop the case, he's warned. Go surfing. And take your girlfriend Vicki Kahn with you before it's too late. Secrets, conspiracies, vested interests, commie plots. Vicki and Fish are caught in the mix, with only one way out.
Andre Odendaal et al | Cricket & Conquest | Best Red 978192824613 | R350? R290? | October
The first of its kind for any sport in South Africa. A cricket love story of epic dimensions with details which will blow readers away. Cricket and Conquest goes back to the beginnings 221 years ago and fundamentally revises long-established foundational narratives of early South African cricket. It reaches beyond old whites-only mainstream histories to integrate at every stage and in every region the experiences of black and women cricketers.
A purely British military game at first, cricket accompanied the process of colonial conquest every step of the way in the nineteenth century. This book and its companion volumes explains how racism came to be built into the very fabric of cricket's 'culture' and 'traditions', and how it was uncannily tied to the broader historical processes that shaped South Africa. The unique experiences of our different cricket communities are described in ways that have not been done before. The exhaustive research and inter-connections highlighted here makes this a COMPLETELY NEW general history of South African cricket.
Sharon Pincott | Elephant Dawn | Jacana 9781431424153 | R260 | July 
Powerful and moving, this is the truly unforgettable story of one woman's life-changing association with the remarkable Presidential Elephants of Zimbabwe, a celebrated clan of wild, free-roaming giants. It comes at a time when elephants all around Africa face the very real threat of being poached to extinction for their ivory. 'A raw, honest story that needs to be heard.' – Tony Park, bestselling author of An Empty Coast 'This mesmerizing book is not just about a love of elephants, it is also about the indomitable spirit of someone who followed her passion.' – Cynthia Moss, world-renowned elephant specialist, celebrated in the BBC's Echo of the Elephants 'A book to take readers into another world.' – Caroline Jones AO, presenter, Australian Story In 2001, Sharon Pincott traded her privileged life as a high-flying corporate executive to start a new one with the Presidential Elephants of Zimbabwe. She was unpaid, untrained, self-funded and arrived with the starry-eyed idealism of most foreigners during early encounters with Africa. For thirteen years – the worst in Zimbabwe's volatile history – this intrepid Australian woman lived in the Hwange bush fighting for the lives of these elephants, forming an extraordinary and lifechanging bond with them. Now remote from Robert Mugabe's rule, Sharon writes without restraint sequentially through the years, taking us on a truly unforgettable ride of hope and heartbreak, profound love and loss, adversity and new beginnings. This is the haunting, all-encompassing story we've been waiting for.
Surya and Anjani are twins, but they could not be more different. Anjani is calm, devout and responsible, while Surya just wants to party the days away.
Jessica Pitchford | Blood on Their Hands | Pan Macmillan SA 9781770104778 | R? | Q3
When Johan Booysen hears that the new Provincial Police Chief takes backhanders from a Durban businessman, he decides to give her the benefit of the doubt. But the evidence becomes impossible to ignore and he soon gets dragged down the corridors of power and politics into a web of intrigue, deceit and betrayal that, at times, he has trouble making sense of. Only when he is arrested, handcuffed and tossed into a cell does Booysen realise just how ruthless those opposed to him are – an opposition he comes to call the 'cabal' – and whom he believes have more blood on their hands than the so-called Cato Manor Death Squad with which he is closely associated.
Blood on their Hands traces Johan Booysen's life and career – from patrolling the streets of Amanzimtoti in the 1970s to his rise in 2010 to major general and head of KZN's Directorate for Priority Crime Investigation unit, the Hawks. But his tenure is short-lived. When Booysen decides to take on those so determined to be rid of him, each legal battle he wins is met by hostility and further efforts to shut him out of the of the criminal justice system. But capitulating is not in his DNA…
Mark Sanders | Learning Zulu – A Secret History of Language in South Africa | WUP 9781868148707 | R350 | July
"Why are you learning Zulu?" When Mark Sanders began studying the language, he was often asked this question. In Learning Zulu, Sanders places his own endeavors within a wider context to uncover how, in the past 150 years of South African history, Zulu became a battleground for issues of property, possession, and deprivation. Sanders combines elements of analysis and memoir to explore a complex cultural history.
Perceiving that colonial learners of Zulu saw themselves as repairing harm done to Africans by Europeans, Sanders reveals deeper motives at work in the development of Zulu-language learning—from the emergence of the pidgin Fanagalo among missionaries and traders in the nineteenth century to widespread efforts, in the twentieth and twenty-first centuries, to teach a correct form of Zulu. Sanders looks at the white appropriation of Zulu language, music, and dance in South African culture, and at the association of Zulu with a martial masculinity.
In exploring how Zulu has come to represent what is most properly and powerfully African, Sanders examines differences in English- and Zulu-language press coverage of an important trial, as well as the role of linguistic purism in xenophobic violence in South Africa. Through one person's efforts to learn the Zulu language,Learning Zulu explores how a language's history and politics influence all individuals in a multilingual society.
Thomas Sankara | Thomas Sankara Speaks | Kwela 9780795707704 | R180 | September
When Thomas Sankara gained power he worked towards the expulsion of colonialism in Burkina Faso. His foreign policies were centred on anti-imperialism and rejecting foreign aid. Some of his domestic policies included preventing famine, prioritising education and public health and empowering women.
In this collection of his speeches and interviews, from 1983 until before his assassination in 1987, his true revolutionary spirit is encapsulated – this is proven in his iconic ideas.
Sam Scarborough | Trapped | H&R 9780798171304 | R240 | August
She was confident, beautiful and financially secure. When she arrived in London with her daughter the future looked bright and she was hoping for a lasting, mature relationship. But within days, things started to go wrong. Was he manipulating her? Maybe it was all in her head? She started a diary, evidence to reassure herself that she wasn't going mad. This is the true story of a strong, independent woman's descent into abuse, and how she eventually escaped.
Luke Sinwell and Siphiwe Mbatha | The Spirit of Marikana | WUP 978-1-77614-002-2 | R350 | July
On 16th August 2012, thirty-four black mineworkers were gunned down by the police under the auspices of South Africa's African National Congress (ANC) in what has become known as the Marikana massacre. This attempt to drown independent workingclass power in blood backfired and is now recognised as a turning point in the country's history. The Spirit of Marikana tells the story of the uncelebrated leaders at the world's three largest platinum mining companies who survived the barrage of state violence, intimidation, torture and murder which was being perpetrated during
this tumultuous period. What began as a discussion about wage increases between two workers in the changing rooms at one mine became a rallying cry for economic freedom and basic dignity. This gripping ethnographic account is the first comprehensive study of this movement, revealing how seemingly ordinary people became heroic figures who transformed their workplace and their country.
South African Wine Industry Directory 2016/17 | WineLand Media ?isbn | R240 | July
The 18th edition of the SA Wine Industry Directory (Sawid) 2016/17 offers more than 500 pages, packed with wine and industry information.
This guide, which serves as a reference source on all facets of this dynamic industry, now offers more information than ever before in one comprehensive volume. It is especially aimed at the industry and related role-players, including suppliers, winemakers, viticulturists, marketers and other key representatives.
Wine industry organisations with contact details
A complete list of wine and industry writers
International media
Local, as well as top international wine competitions
Guidelines on BEE implementation
Production cost control
Ethical trading
Suppliers of services and products to the industry
Grapevine cultivars and clones
Maps of wine growing areas.
In collaboration with Sawis (SA Wine Industry Information and Systems), the latest South African wine industry statistics are also presented.
The guide is published under the auspices of VinPro through WineLand Media, with research co-ordinated by WineLand magazine's managing editor, Wanda Augustyn.
Marianne Thamm | Hitler, Verwoerd, Mandela and Me | Tafelberg 9780624075202 | September | R280
Marianne Thamm delves into her own unconventional life story. Her German father fought for Hitler and made munitions for Verwoerd. He married her largely illiterate Portuguese mother who worked as a cleaner in England. Today Marianne is the proud mother of two (black) teenagers … Hers is the story of the last century, of the defeat of bigotry and a new era ushered in by Mandela. Sad at times, deeply moving and, like Marianne, hugely entertaining.
Johan van Loggerenberg and Adrian Lackay | Rogue: The Inside Story of SAR's Elite Crime-busting Unit | Jonathan Ball 9781868427406 | R270 | September
THE STORY OF A SARS 'ROGUE UNIT' became entrenched in the public mind following a succession of sensational reports of illegal spook operations published by theSunday Times. The unit, the reports claimed, had spied on President Jacob Zuma, run a brothel and entered into illegal tax settlements.
In a plot of Machiavellian proportions, Johann van Loggerenberg, who headed the elite crime-busting unit, and nearly the entire top management were forced to quit SARS. Van Loggerenberg's select team of investigators, with an impeccable track record of busting high-level financial fraudsters and nailing tax criminals, lost their careers and their reputations.
Now, in this extraordinary account, they finally get to put the record straight. There was no 'rogue unit'. The public had been deceived, seemingly by powers conspiring to capture SARS for their own ends.  Shooting down the allegations he has faced one by one, Van Loggerenberg tells the story of what really happened inside SARS and shares details of some of the unit's real investigations.
Richard Viljoen et al | Africa's Top Geological Sites | PRH SA 9781775844488 | R390 | August
Africa is home to more than the Cradle of Humankind. It was the core of the ancient supercontinent Pangaea, and comprises some of the oldest and most extraordinary geology on planet Earth.
This detailed and colourful book features 44 of the continent's most spectacular and interesting 'geosites', from Table Mountain in the south to the eroded necks and plugs of the Hoggar region in Algeria; and from the volcanic islands of the Atlantic Ocean to the continental fragments off the African east coast. Each site is authored by a geologist (or specialist in a related field) with in-depth knowledge about the particular feature or landform: how it formed and developed, its current geological status, ecological impact, and its archaeological and cultural interest.
Supported with many photographs, maps, satellite images and explanatory illustrations, the text is accessible to geologists and lay enthusiasts alike, unpacking the hows and whys of Africa's most intriguing landforms, sites and geological features.
Hannes Wessels | A Handful of Hard Men | Ex Montibus Media 9780620686433 | R295 | July
During the West's great transition into the post-Colonial age, the country of Rhodesia refused to succumb quietly and throughout the 1970s fought back almost alone against Communist-supported elements that it did not believe would deliver proper governance. During this long war many heroes emerged, but none more skillful and courageous than Captain Darrell Watt of the Rhodesian SAS, who placed himself at the tip of the spear in the deadly battle to resist the forces of Robert Mugabe and Joshua Nkomo.
It is difficult to find another soldier's story to equal Watt's in terms of time spent on the field of battle and challenges faced. Even by the lofty standards of the SAS and Special Forces, one has to look far to find anyone who can match his record of resilience and valor in the face of such daunting odds and with resources so paltry. In the fight he showed himself to be a military maestro. A bush-lore genius, blessed with uncanny instincts and an unbridled determination to close with the enemy, he had no peers as a combat-tracker (and there was plenty of competition).
But the Rhodesian theater was a fluid and volatile one in which he performed in almost every imaginable fighting role; as an airborne shock-trooper leading camp attacks, long range reconnaissance operator, covert urban operator, sniper, saboteur, seek-and-strike expert, and in the final stages as a key figure in mobilizing an allied army in neighboring Mozambique.
After 12 years in the cauldron of war his cause slipped from beneath him, however, and Rhodesia gave way to Zimbabwe. When the guns went quiet Watt had won all his battles but lost the war. In this fascinating biography we learn that in his twilight years he is now concerned with saving wildlife on a continent where they are in continued danger, devoting himself to both the fauna and African people he has cared so deeply about.
Mark Winkler | The Safest Place You Know | PRH SA 9781415209097 | R250 | August 
After his father's violent death on a hot November day in the droughtstricken Free State, a young man leaves the derelict family farm with no plan, and with no way of knowing that his life will soon be changed for ever by two strangers he encounters on his journey south: a mute little girl who bears a striking resemblance to his late niece, and a troubled lawyer who detests the Cape wine estate she's inherited from a father she despised.
Set in South Africa against the backdrop of a country in flux, The Safest Place You Know  is a powerful story, rendered in meticulously crafted, lyrical prose, about redemption and recovery, and what it means to carry the past with you.
Helen Zille | Not Without a Fight | PRH SA 9781776090426 | R380 | September
Helen Zille's long-awaited autobiography is one of the most fascinating political stories of our time.
Zille takes the reader back to her humble family origins, her struggle with anorexia as a young woman, her early career as a journalist for the Rand Daily Mail, and her involvement with the End Conscription Campaign and the Black Sash. She documents her early days in the Democratic Party and the Democratic Alliance, at a time when the party was locked in a no-holds-barred factional conflict. And she chronicles the intense political battles to become mayor of Cape Town, leader of the DA and premier of the Western Cape, in the face of dirty tricks from the ANC and infighting within her own party.
This is a story about political intrigue and treachery, floor-crossing and unlikely coalitions, phone tapping and intimidation, false criminal charges and judicial commissions. It documents Zille's courageous fight against corruption and state capture and her efforts to realign politics and entrench accountability. And it describes a mother's battle to raise children in the pressured world of South African politics.
This book is as frank, honest and unflinching as Helen Zille herself, and will appeal to anyone interested in the story of South African politics over the past fifty years.