January 2017 : New Titles
A personal selection from a plethora of titles …
Fiction
Paul Auster | 4 3 2 1 | Faber 9780571324620 | £20 | 31st
On March 3, 1947, in the maternity ward of Beth Israel Hospital in Newark, New Jersey, Archibald Isaac Ferguson, the one and only child of Rose and Stanley Ferguson, is born. From that single beginning, Ferguson's life will take four simultaneous and independent fictional paths. Four Fergusons made of the same genetic material, four boys who are the same boy, will go on to lead four parallel and entirely different lives. Family fortunes diverge. Loves and friendships and intellectual passions contrast. Chapter by chapter, the rotating narratives evolve into an elaborate dance of inner worlds enfolded within the outer forces of history as, one by one, the intimate plot of each Ferguson's story rushes on across the tumultuous and fractured terrain of mid twentieth-century America. A boy grows up—again and again and again.
As inventive and dexterously constructed as anything Paul Auster has ever written 4 3 2 1 is an unforgettable tour de force, the crowning work of this masterful writer's extraordinary career.
EO Chirovici | The Book of Mirrors | Century 9781780895673 | £12.99 | 26th
A gripping psychological thriller full of hidden fragments and dark reflections.
How would you piece together a murder?
Do you trust other people's memories?
Do you trust your own?
Should you?
Princeton, 1987: renowned psychologist Professor Joseph Weider is brutally murdered.
New York, twenty-five years later: literary agent Peter Katz receives a manuscript. Or is it a confession?
Today: unearth the secrets of The Book of Mirrors and discover why your memory is the most dangerous weapon of all.

Emma Flint | Little Deaths | Picador 9781509826575 | £12.99
It's the summer of 1965, and the streets of Queens, New York shimmer in a heatwave. One July morning, Ruth Malone wakes to find a bedroom window wide open and her two young children missing. After a desperate search, the police make a horrifying discovery.
Noting Ruth's perfectly made-up face and provocative clothing, the empty liquor bottles and love letters that litter her apartment, the detectives leap to convenient conclusions, fuelled by neighbourhood gossip and speculation. Sent to cover the case on his first major assignment, tabloid reporter Pete Wonicke at first can't help but do the same. But the longer he spends watching Ruth, the more he learns about the darker workings of the police and the press. Soon, Pete begins to doubt everything he thought he knew.
Ruth Malone is enthralling, challenging and secretive – is she really capable of murder?
Haunting, intoxicating and heart-poundingly suspenseful, Little Deaths is a gripping novel about love, morality and obsession, exploring the capacity for good and evil within us all.
Nathan Hill | The Nix | Picador 9781509807833 | £16.99 | 26th
Meet Samuel: stalled writer, bored teacher at a local college, obsessive player of online video games. He hasn't seen his mother, Faye, in decades, not since she abandoned her family when he was a boy. Now she has suddenly reappeared, having committed an absurd politically motivated crime that electrifies the nightly news, beguiles the Internet, and inflames a divided America. The media paints Faye as a radical hippie with a sordid past, but as far as Samuel knows, his mother was an ordinary girl who married her high-school sweetheart. Which version of his mother is true? Two facts are certain: she's facing some serious charges, and she needs Samuel's help.
As Samuel begins to excavate his mother's – and his country's – history, the story moves from the rural Midwest of the 1960s, to New York City during Occupy Wall Street, back to Chicago in 1968 and, finally, to wartime Norway, home of the mysterious Nix. Samuel will unexpectedly find that he has to rethink everything he ever knew about his mother – a woman with an epic story of her own, a story she has kept hidden from the world.
James Lasdun | The Fall Guy | Jonathan Cape 9781910702833 | £12.99 | 12th
It is summer, 2012. Charlie, a wealthy banker with an uneasy conscience, invites his troubled cousin Matthew to visit him and his wife in their idyllic mountain-top house. As the days grow hotter, the friendship between the three begins to reveal its fault lines, and with the arrival of a fourth character, the household finds itself suddenly in the grip of uncontrollable passions. Who is the real victim here? Who is the perpetrator? And who, ultimately, is the fall guy?
A story of fracture in paradise, where ancient resentments and current desires lurch violently to the surface and an idyllic summer retreat becomes a stage for lies, lust and revenge, The Fall Guy is Lasdun's most entertaining novel yet: a taut psychological thriller that is superbly written, darkly vivid, with an unforgettably febrile atmosphere of erotic danger.
Non-fiction
Harry Benson | What Mum's Want (and Dads Need to Know) | Lion 9780745968858 | £8.99 | 20th
When his own marriage nearly broke up, Harry Benson decided to take responsibility for his wife's happiness – loving her, caring for her and understanding her. Putting himself and his work second, he put his wife first – and their marriage flourished. Now the head of the Marriage Foundation, he has discovered that research supports his decision – and that happy women make for happy children and happy husbands. 'The success of a marriage' he says 'depends primarily on a husband's ability to make his wife feel valued – and as more than just a mother. It may take two to tango: it requires one person to take responsibility. This is not about being a doormat. Nor is it about work and parenting roles… it is about human nature. A wife who knows she is loved and cherished cannot help but reflect love back on her husband.'
David Crystal | Making Sense – The Glamorous Story of English Grammar | Profile 9781781256015 | £12.99 | 5th
David Crystal explains grammar's rules and irregularities, shows how to navigate its snares and pitfalls, and explores its history and varieties. He gives practical guidance on how grammar may be used for different purposes and in different settings. He provides a series of insights into the stages by which children acquire grammar and shows how this can be used to guide its early instruction. He casts a mordant eye on what learned people have said about English grammar over the centuries and what they continue to say now. People have always been uneasy about points of grammar and worried that what they say may not always be what they mean. Grammar is complex but, Professor Crystal shows, it need not be daunting: the more we understand it, he argues, the more sense we shall make. Making Sense is as entertaining as it is instructive. David Crystal unites investigations of its nature, variations, history, learning, and teaching with a host of practical advice. Like its three companion volumes it will appeal to everyone interested in the English language and how to use it.
Joshua Jelly-Schapiro | Island People | Canongate 9781782115601 | £14.99 | 26th
Clustered together in azure-blue waters are a collection of little islands whose culture, history and people have touched every corner of the world. From the moment Columbus gazed out at what he mistook for India, and wrote in his journal of 'the most beautiful land that human eyes have ever seen,' the Caribbean has been the subject of fantasies, myths and daydreams. It was claimed, and its societies were built to enrich old Europe, and much later its beaches were splashed across billboards advertising fizzy drinks, its towns and people pictured in holiday brochures.
But these islands are so much more than gloss, white sand and palm trees, they form a region rich in colour, beauty and strength. Home of the Rastafarian faith, Che Guevara's stomping ground and birthplace of reggae, the Caribbean has produced some of the world's most famous artists, activists, writers, musicians and sportsmen – from Usain Bolt to Bob Marley and from Harry Belafonte to V. S. Naipaul. In the pages of Island People we hear the voices of the Caribbean people, explore their home and learn what it means to them, and to the world.
In this fascinating and absorbing book, the product of almost a decade of travel and intense study, Joshua Jelly-Schapiro strips away the fantasy and myth to expose the real islands, and the real people, that make up the Caribbean.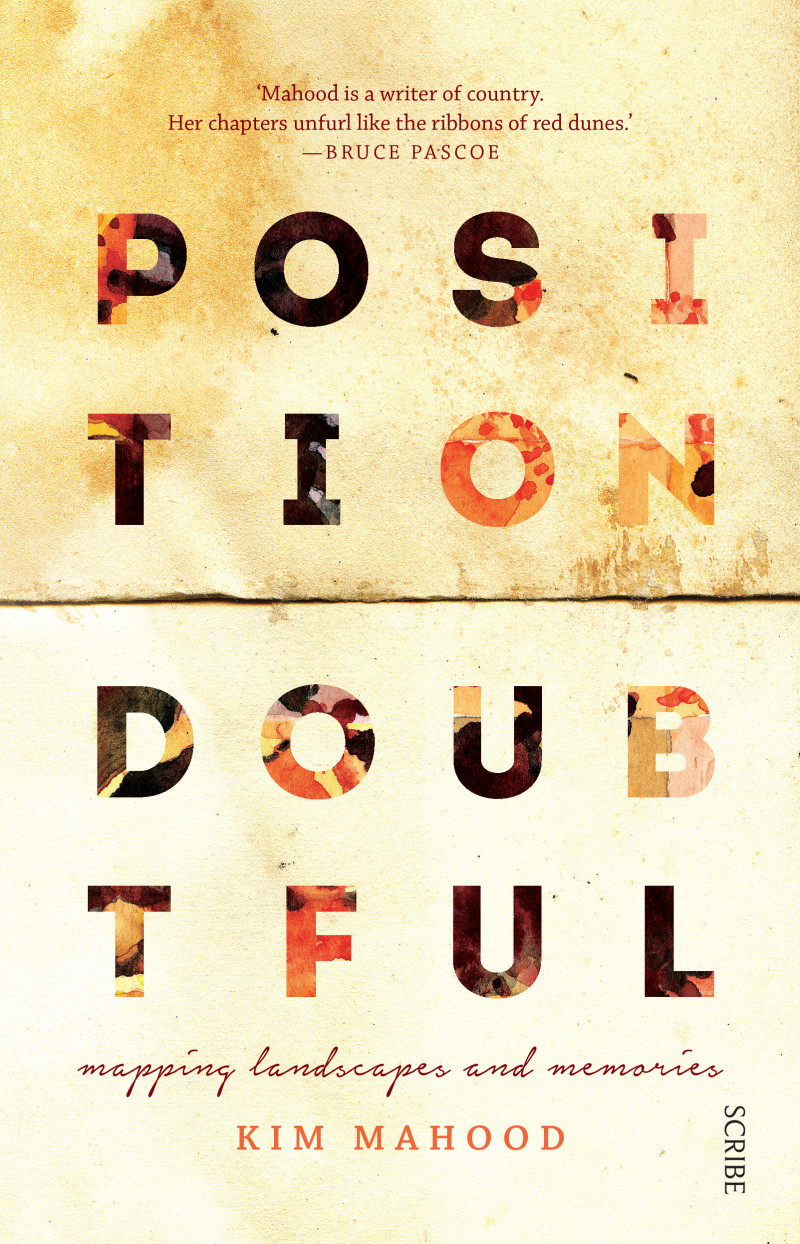 Kim Mahood | Position Doubtful | Scribe 9781925228946 | pbk | £14.99 | 12th
Since the publication of her prize-winning memoir Craft for a Dry Lake in 2000, writer and artist Kim Mahood has been returning to the Tanami desert country in far north-western Australia where, as a child, she lived with her family on a remote cattle station. The land is timeless, but much has changed: the station has been handed back to its traditional owners; the mining companies have arrived; and Indigenous art has flourished.
Comedy and tragedy, familiarity and uncertainty, are Mahood's constant companions as she immerses herself in the life of a small community and in groundbreaking mapping projects. What emerges in Position Doubtful is a revelation of the significance of the land to its people — and of the burden of history.
Mahood is an artist of astonishing versatility. She works with words, with paint, with installations, and with performance art. Her writing about her own work and collaborations, and about the work of the desert artists, is profoundly enlightening, making palpable the link between artist and landscape.
This is a beautiful and intense exploration of friendships, landscape, and homecoming. Written with great energy and humour, Position Doubtful offers a unique portrait of the complexities of black and white relations in contemporary Australia.
Laurence Rees | The Holocaust – A New History | Viking 9780241297001 | £25 | 26th
This landmark work answers two of the most fundamental questions in history – how, and why, did the Holocaust happen?
Laurence Rees has spent twenty-five years meeting survivors and perpetrators of the Holocaust. Now, in his magnum opus, he combines their enthralling eyewitness testimony, a large amount of which has never been published before, with the latest academic research to create the first accessible and authoritative account of the Holocaust in more than three decades.
This is a new history of the Holocaust in three ways. First, and most importantly, Rees has created a gripping narrative that that contains a large amount of testimony that has never been published before. Second, he places this powerful interview material in the context of an examination of the decision making process of the Nazi state, and in the process reveals the series of escalations that cumulatively created the horror. Third, Rees covers all those across Europe who participated in the deaths, and he argues that whilst hatred of the Jews was always at the epicentre of Nazi thinking, what happened cannot be fully understood without considering the murder of the Jews alongside plans to kill millions of non-Jews, including homosexuals, 'Gypsies' and the disabled.
Through a chronological, intensely readable narrative, featuring enthralling eyewitness testimony and the latest academic research, this is a compelling new account of the worst crime in history.
Paperbacks
Fiction
Julian Barnes | The Noise of Time | Vintage 9781784703325 | pbk | £7.99
In May 1937 a man in his early thirties waits by the lift of a Leningrad apartment block. He waits all through the night, expecting to be taken away to the Big House. Any celebrity he has known in the previous decade is no use to him now. And few who are taken to the Big House ever return.
Hannah Kohler | The Outside Lands | Picador 9781509802128 | pbk | £7.99 | 26th
Jeannie is nineteen when the world changes, Kip only fourteen. The sudden accident that robs them of their mother leaves them adrift, with only their father to guide them. Jeannie seeks escape in work and later marriage to a man whose social connections propel her into an unfamiliar world of wealth and politics. Ill-equipped and unprepared, Jeannie finds comfort where she can. Meanwhile Kip's descent into a life of petty crime is halted only when he volunteers for the Marines.
By 1968, the conflict in Vietnam is at its height, and with the anti-war movement raging at home, Jeannie and Kip are swept along by events larger than themselves, driven by disillusionment to commit unforgiveable acts of betrayal that will leave permanent scars.
The Outside Lands is the story of people caught in the slipstream of history, how we struggle in the face of loss to build our world, and how easily and with sudden violence it can be swept away. With extraordinary skill and accuracy, Hannah Kohler takes us from 1960s California to Vietnam, capturing what it means to live through historic times. This powerful debut novel announces Kohler as a remarkable new literary talent.
Joyce Carol Oates | The Man Without a Shadow | 4th Estate 9780008165413 | pbk | £8.99
In 1965, a young research scientist named Margot Sharpe meets Elihu Hoopes, the subject of her study, a handsome amnesiac who cannot remember anything beyond the last seventy seconds. Over the course of thirty years, the two embark on mirroring journeys of self-discovery. Margot, enthralled by her charming, mysterious, and deeply lonely patient, as well as her officious supervisor, attempts to unlock Eli's shuttered memories of a childhood trauma without losing her own sense of identity in the process. And Eli, haunted by memories of an unknown girl's body underneath the surface of a lake, pushes to finally know himself once again, despite potentially devastating consequences. As Margot and Eli meet over and over again, Joyce Carol Oates' tightly written, nearly clinical prose propels the lives of these two characters forwards, both suspended in a dream-like, shadowy present, and seemingly balanced on the thinnest, sharpest of lines between past and future. Made vivid by Oates' eye for detail and searing insight into the human psyche, The Man Without a Shadow is an eerie, ambitious, and structurally complex novel, as poignant as it is thrilling.
Non-fiction
Helen Pearson | The Life Project | Allen Lane 9780141976617 | £9.99 | 26th
The remarkable story of a unique series of studies that have touched the lives of almost everyone in Britain today.
In March 1946, scientists began to track thousands of children born in one cold week. No one imagined that this would become the longest-running study of human development in the world, growing to encompass five generations of children. Today, they are some of the best-studied people on the planet, and the simple act of observing human life has changed the way we are born, schooled, parent and die. This is the tale of these studies and the remarkable discoveries that have come from them. Touching almost every person in Britain today, they are one of our best-kept secrets.
Keith Somerville | Africa's Long Road Since Independence | Penguin 9780141984094 | £10.99 | 26th
Over the last half century, sub-Saharan Africa has not had one history, but many. Histories that have intertwined, converged and diverged. They have involved a continuing process of decolonization and state-building, conflict, economic problems but also progress and the perpetual interplay of structure and agency.
This new view of those histories looks in particular at the relationship between territorial, economic, political and societal structures and human agency in the complex and sometimes confusing development of an independent Africa. The story starts well before the granting of independence to Ghana in 1957, but the book also looks at Africa in the closing decades of the old millennium and opening ones of the new. This is a book, too, about the history of the peoples of Africa and their struggle for economic development against the global economic straitjacket into which they were strapped by colonial rule and decolonisation. The importance of imposed or inherited structures, whether the global capitalist system, of which Africa is a subordinate part, or the artificial and often inappropriate state borders and political systems is discussed in the light of the exercise of agency by African peoples, political movements and leaders.