April 2017 : New Titles
A personal selection from a plethora of titles …
Fiction
Harriet Cummings | We All Begin as Strangers | Orion 9781409169048 | £14.99 | 20th
It's 1984, and summer is scorching the ordinary village of Heathcote.
What's more, a mysterious figure is slipping into homes through back doors and open windows. Dubbed 'the Fox', he knows everything about everyone – leaving curious objects in their homes, or taking things from them.
When beloved Anna goes missing, the whole community believes the Fox is responsible.
For the worried residents, finding Anna will be difficult – but stopping the Fox from exposing their darkest secrets might just be impossible…
Ian Fleming, Jim Lawrence and Henry Gammidge | The Complete James Bond : Goldfinger – The Classic Comic Strip Collection 1960 – 66 | Titan Books 9781785653247 | £24.99 | 14th
James Bond returns to action in six thrilling adventures, starting with 007's encounter with the titular Auric Goldfinger, the man with the Midas touch. Also included are Risico, From A View To A Kill, For Your Eyes Only, The Man With The Golden Gun and The Living Daylights, each of which has been painstakingly restored to create the highest quality reproduction of the original Express Newspapers' strip available.
Emma Jackson | The Valentine House | Sceptre  9781444704020 | £16.99 | 6th
In June 1914, Sir Anthony Valentine, a keen mountaineer, arrives with his family to spend the summer in their chalet, high in the French Alps. There, for the first time, fourteen-year-old foundling Mathilde starts work as one of the 'uglies' – village girls employed as servants and picked, it is believed, to ensure they don't catch Sir Anthony's roving eye.
For Mathilde it is the start of a life-long entanglement with les anglais – strange, exciting people, far removed from the hard grind of farming. Except she soon finds the Valentines are less carefree than they appear, with a curiously absent daughter no one talks about. It will be decades – disrupted by war, accidents and a cruel betrayal – before Mathilde discovers the key to the mystery. And in 1976, the year Sir Anthony's great-great grandson comes to visit, she must decide whether to use it.
Vividly evoking the dramatic landscape that so enthrals the Valentines, this deeply involving, intriguing novel tells the story of an English family through the generations and a memorable French woman, whose lives seem worlds apart yet which become inextricably connected.
Hari Kunzru | White Tears | Hamish Hamilton 9780241272954 | £16.99 | 6th
Two twenty-something New Yorkers: Seth, awkward and shy, and Carter, the trust fund hipster. They have one thing in common: an obsession with music. Rising fast on the New York producing scene, they stumble across an old blues song long forgotten by history — and everything starts to unravel. Carter is drawn far down a path that allows no return, and Seth has no choice but to follow his friend into the darkness.
Trapped in a game they don't understand, Hari Kunzru's characters move unsteadily across the chessboard, caught between black and white, performer and audience, righteous and forsaken. But we have been here before, oh so many times over, and the game always ends the same way . . .
Electrifying, subversive and wildly original, White Tears is a ghost story and a love story, a story about lost innocence and historical guilt. This unmissable novel penetrates the heart of a nation's darkness, encountering a suppressed history of greed, envy, revenge and exploitation, and holding a mirror up to the true nature of America today.
Molly McCloskey | When Light is Like Water | Penguin Ireland 9781844883882 | £16.99 | 27th
Alice, a young American on her travels, arrives in the West of Ireland with no plans and no strong attachments – except to her beloved mother, who raised her on her own. She falls in love with an Irishman, marries him, and settles down in a place whose codes she struggles to crack. And then, in the course of a single hot summer, she embarks on an affair that breaks her marriage and sets her life on a new course.
After years working in war zones around the world, and in the immediate aftermath of her mother's death, Alice finds herself back in Ireland and contemplating the forces that led her to put down roots and then tear them up again. What drew her to her husband, and what pulled her away? Was her husband strangely complicit in the affair? Was she always under surveillance by friends and neighbours who knew more than they let on?
When Light is LIke Water is at once a gripping story of passion and ambivalence and a profound meditation on the things that matter most: the definition of love, the value of family and the meaning of home.
Jon McGregor | Reservoir 13 | 4th Estate 9780008204853 | £14.99 | 6th
Midwinter in the early years of this century. A teenage girl on holiday has gone missing in the hills at the heart of England. The villagers are called up to join the search, fanning out across the moors as the police set up roadblocks and a crowd of news reporters descends on their usually quiet home.
Meanwhile, there is work that must still be done: cows milked, fences repaired, stone cut, pints poured, beds made, sermons written, a pantomime rehearsed.
The search for the missing girl goes on, but so does everyday life. As it must.
As the seasons unfold there are those who leave the village and those who are pulled back; those who come together or break apart. There are births and deaths; secrets kept and exposed; livelihoods made and lost; small kindnesses and unanticipated betrayals.
Bats hang in the eaves of the church and herons stand sentry in the river; fieldfares flock in the hawthorn trees and badgers and foxes prowl deep in the woods mating and fighting, hunting and dying.
An extraordinary novel of cumulative power and grace, Reservoir 13 explores the rhythms of the natural world and the repeated human gift for violence, unfolding over thirteen years as the aftershocks of a stranger's tragedy refuse to subside.
Non-fiction
Michael Breen | The New Koreans | Rider 9781846045202 | pbk | £12.99 | 6th
In the course of a couple of generations, South Koreans took themselves out of the paddy fields and into Silicon Valley, establishing themselves as a democracy alongside the advanced countries of the world. Yet for all their ambition and achievement, the new Koreans are a curiously self-deprecating people. Theirs is a land with a rich and complex past, certain aspects of which they would prefer to forget as they focus on the future.
Having lived and worked in South Korea for many years, Michael Breen considers what drives the nation today, and where it is heading. Through insightful anecdotes and observations, he provides a compelling portrait of Asia's most contradictory and polarized country. South Koreans are motivated by defiance, Breen argues: defiance of their antagonistic neighbour, North Korea, of their own history and of international opinion. Here is an overlooked nation which, with great drive, is determined to succeed on its own terms.
Catherine Burns | The Moth – All These Wonders | Serpent's Tail 9781781256633 | pbk | £12.99 | 20th
From storytelling phenomenon The Moth: a collection about risk, courage, and facing the unknown, drawn from the best stories ever told on their stages.
All These Wonders features voices both familiar and new. Storytellers include writer Jung Chang and comedian Louis C.K, as well as a hip hop 'one hit wonder', an astronomer gazing at the surface of Pluto for the first time, and a young female spy risking everything as part of Churchill's secret army during World War II. They share their ventures into uncharted territory – and how their lives were changed forever by what they found there. These true stories have been carefully selected and adapted to the page by the creative minds at The Moth, and encompass the very best of the 17,000+ stories performed in live Moth shows around the world. Filled with a variety of humourous, moving, and gripping tales from all walks of life, it is timed to celebrate the Moth's 20th anniversary year.
John Haffenden | The Letters of TS Eliot Vol 7 : 1934 – 1935 | Faber 9780571316366 | £50 | 6th
T. S. Eliot's career as a successful stage dramatist gathers pace throughout the fascinating letters of this volume. Even while absorbed in time-consuming theatre work, Eliot was untiring in promoting the writers on Faber's ever broadening lists – George Barker, Marianne Moore and Louis MacNeice among them. Having separated from his wife Vivien in 1933, he is anxious to avoid running into her; but she refuses to comprehend that her husband has chosen to leave her and stalks him across literary society, leading to his place of work at the offices of Faber & Faber.
Barry Forshaw | American Noir | Pocket Essentials 9781843449188 | pbk | £9.99 | 27th
Barry Forshaw is acknowledged as a leading expert on crime fiction and films from Britain and the European countries, but a further area of expertise is American crime fiction, film and TV, as demonstrated in such books as The Rough Guide to Crime Fiction and Detective. After the success of earlier entries in his 'Noir' series — Nordic Noir, Brit Noir and Euro Noir — he now tackles the largest and, some might argue, most impressive body of crime fiction from a single country, the United States, to produce the perfect reader's guide to modern American crime fiction. The word 'Noir' is used in its loosest sense: every major living American writer is considered (including the giants Harlan Coben, Patricia Cornwell, James Lee Burke, James Ellroy and Sara Paretsky, as well as non-crime writers such as Stephen King who stray into the genre), often through a concentration on one or two key books.
Many exciting new talents are highlighted, and Barry Forshaw's knowledge of – and personal acquaintance with – many of the writers grants valuable insights into this massively popular field.But the crime genre is as much about films and TV as it is about books, and American Noir is a celebration of the former as well as the latter. US television crime drama in particular is enjoying a new golden age, and all of the important current series are covered here, as well as key important recent films.
Allen Ginsberg | The Best Minds of My Generation | Allen Lane 9780241187524 | £25 | 4th
In 1977, twenty years after the publication of his landmark poem "Howl," and Jack Kerouac's seminal book On the Road, Allen Ginsberg decided it was time to teach a course on the literary history of the Beat Generation. Through the creation of this course, which he ended up teaching five times, first at the Naropa Institute and later at Brooklyn College, Ginsberg saw an opportunity to present the history of Beat Literature in his own inimitable way. Compiled and edited by renowned Beat scholar Bill Morgan, and with an introduction by Anne Waldman, The Best Minds of My Generation presents the lectures in edited form, complete with notes, and paints a portrait of the Beats as Ginsberg knew them: friends, confidantes, literary mentors, and fellow revolutionaries.
Ginsberg was seminal to the creation of a public perception of Beat writers and knew all of the major figures personally, making him uniquely qualified to be the historian of the movement. In The Best Minds of My Generation, Ginsberg shares anecdotes of meeting Kerouac, Burroughs, and other writers for the first time, explains his own poetics, elucidates the importance of music to Beat writing, discusses visual influences and the cut-up method, and paints a portrait of a group who were leading a literary revolution. For Beat aficionados and neophytes alike, The Best Minds of My Generation is a personal yet critical look at one of the most important literary movements of the twentieth century.
Bob Holmes | Flavour | WH Allen 9780753555903 | £20 | 27th
Why should you serve red wine with classical music and white wine with pop music?
What is it about a heavier bowl that makes your pudding taste better?
And how can you make your food taste saltier without adding more salt?
If any of these questions has sparked your appetite you need to read Flavour.
New Scientist correspondent Bob Holmes has tasted a lot of things in the name of flavour. He's travelled all over the world, delved into cutting-edge scientific research, enlisted chefs, psychologists, molecular gastronomists, flavourists and farmers, attended the weirdest conventions, and even received very rare access to one of the world's few highly secretive flavour houses.
For anyone who wants to be a better cook, get the best restaurant experience no matter where you go, or if you just want to make better decisions in the supermarket or about your diet. Flavour will help you discover a deeper appreciation of what's on your plate and in your glass.
A fascinating and surprising exploration into a world of high-definition flavour.
Beau Lotto | Deviate : The Science of Seeing Differently | Weidenfeld 9781474600330 | £20 | 27th
Perception is the foundation of human experience, but few of us understand how our own perception works. By revealing the startling truths about the brain and perception, Beau Lotto shows that the next big innovation is not a new technology: it is a new way of seeing.
In his first major book, Beau Lotto draws on over a decade of pioneering research to show how our brains play tricks on us. With an innovative combination of case studies and optical and perception illusion exercises, DEVIATE will revolutionise the way you see the world. With this new understanding of how the brain works and its perceptive trickery, we can apply these insights to every aspect of life and work. DEVIATE is not just an engaging look into the neuroscience of thought, behaviour and creativity: it is a call to action, enlisting readers in their own journey of self-discovery.

Alex Renton | Stiff Upper Lip | Weidenfeld 9781474600545 | £16.99 | 6th
This is the story of generations of parents, Britain's richest and grandest, who believed that being miserable at school was necessary to make a good and successful citizen. Childish suffering was a price they accepted for the preservation of their class, and their entitlement. The children who were moulded by this misery and abuse went on – as they still do – to run Britain's public institutions and private companies.
Confronting the truth of his own schooldays and the crimes he witnessed, Alex Renton has revealed a much bigger story. It is of a profound malaise in the British elite, shown up by tolerance of the abuse of its own children that amounts to collusion. This culture and its traditions, and the hypocrisy, cronyism and conspiracy that underpin them, are key to any explanation of the scandals over sexual abuse, violence and cover-up in child care institutions that are now shocking the nation.
As Renton shows, complicity in this is the bleak secret at the heart of today's British elite.
Emma Spitzer | Fress : Bold Flavours From a Jewish Kitchen | Mitchell Beazley 9781784722036 | £25 | 6th
Fress (Yiddish): 'to eat copiously and without restraint'
Emma Spitzer's style of cooking is unfussy and uncomplicated, extracting the maximum flavour from the humblest of ingredients without spending hours in the kitchen. Her melting pot of inspiration embraces Poland and Russia, Jewish recipes learned from her mother, travels in Israel, Egypt, Jordan and North Africa, as well as Algerian recipes shared by her mother-in-law.
From Slow-cooked Moroccan Chutney to Duck with Black Za'atar & Puy Lentils, Baharat Spiced Chicken to Apricot & Orange Blossom Frangipane, these recipes are packed with punchy flavours and delicous spices. Family recipes are included too, from Grandpa 'Bugga's' Turkey Schnitzel and Aunty Rochele's Cabbage Salad to Mummy's Golden Chicken Soup. Big on flavour and spice, this is happy, sociable food to feed the soul.
Yanis Varoufakis | Adults in the Room | Bodley Head 9781847924452 | £20 | 20th
In this blistering, personal account, world-famous economist Yanis Varoufakis blows the lid on Europe's deep establishment, exposing what actually goes on behind the scenes in Europe's corridors of power.
As finance minister of Greece, Varoufakis sparked one of the most spectacular and controversial battles in recent political history when he attempted to re-negotiate his country's relationship with the EU. Despite the mass support of the Greek people and the simple logic of his arguments – that the gargantuan loans and crushing austerity forced upon his bankrupt country were self-defeating – Varoufakis succeeded only in provoking the fury of Europe's political and media establishment. But the true story of what happened is almost entirely unknown because so much of the EU's real business takes place behind closed doors.
In this fearless account, Varoufakis reveals all: an extraordinary tale of brinkmanship, hypocrisy, collusion and betrayal that will shake the deep establishment to its foundations.
The future of the EU now hangs in the balance. As Varoufakis argues, the only way it can survive is if the truth is known, ushering in a new era of radical transparency and accountability.
Adults In The Room is an urgent wake-up call to renew European democracy before it is too late.
John Walters | Alan Kitching: A Life in Letterpress | Laurence King 9781780677729 | £40 | 
Spanning over fifty years, this lavish volume leads us from Kitching's first typographical experiments under the auspices of mentor Anthony Froshaug to his most iconic creations at The Typography Workshop. It covers his years designing alongside Derek Birdsall, as well as his time teaching letterpress at the Royal College of Art, and showcases his most colorful and expressive pieces, including his prolific work for The Guardian. Kitching's work hangs in private collections and galleries but it has also featured on everything from magazine and book covers, postage stamps and theater posters, to wine labels, billboards, and signage.
Paperbacks
Fiction
Maryse Condé | Segu | Penguin Modern Classics 9780241293515 | £9.99 | 6th
It is 1797 and the African kingdom of Segu, born of blood and violence, is at the height of its power. Yet Dousika Traore, the king's most trusted advisor, feels nothing but dread. Change is coming. From the East, a new religion, Islam. From the West, the slave trade. These forces will tear his country, his village and the lives of his beloved sons apart, in Maryse Condé's glittering epic.
Louise Doughty | Black Water | Faber 9780571278671 | £7.99 | 6th
John Harper lies awake at night in an isolated hut on an Indonesian island, listening to the rain on the roof and believing his life may be in danger. But he is less afraid of what is going to happen than of something he's already done.
In a local town, he meets Rita, a woman with her own troubled history. They begin an affair – but can he allow himself to get involved when he knows this might put her at risk?
Moving between Europe during the cold war, California and the Civil Rights struggle, and Indonesia during the massacres of 1965 and the decades of military dictatorship that follow, Black Water is an epic novel that explores some of the darkest events of recent world history through the story of one troubled man.
Alan Furst | A Hero in France | Orion 9781474602921 | £8.99 | 6th
Spring, 1941. Britain is losing the war.
Paris is occupied by the Nazis, dark and silent at night. But when the clouds part, and moonlight floods the city, a Resistance leader called Mathieu steps out to begin his work.
The fighters of the French Resistance are determined not to give up. These courageous men and women – young and old, aristocrats and nightclub owners, teachers and students – help downed British airmen reach the border with Spain. In farmhouses and rural churches, in secret hotels, and on the streets, they risk everything to open Europe's sealed doors and lead Allied fighters to freedom.
But as the military police heightens surveillance, Mathieu and his team face a new threat, dispatched from the Reich to destroy them all.
Elizabeth von Arnim | Elizabeth and Her German Garden | Vintage Classics 9781784872328 | £7.99 | 6th
Meet Elizabeth and discover there is no greater happiness to be found than when lost in a wilderness of a garden, with bird cherries, lilacs, hollyhocks and lilies crowding the vision. This is her sanctuary from a host of unreasonable demands, whether from the Man of Wrath (husband), babies, servants and (worst of all horrors) house guests. Plunge into her charming diaries and be warned: you won't be able to remain indoors.
Non-fiction
Richard Aldrich and Rory Cormac | The Black Door | William Collins 9780007555475 | £10.99
'The Black Door' explores the evolving relationship between successive British prime ministers and the intelligence agencies, from Asquith's Secret Service Bureau to Cameron's National Security Council.
At the beginning of the 20th Century the British intelligence system was underfunded and lacked influence in government. But as the new millennium dawned, intelligence had become so integral to policy that it was used to make the case for war. Now, covert action is incorporated seamlessly into government policy, and the Prime Minister is kept constantly updated by intelligence agencies.
But how did intelligence come to influence our government so completely?
The Black Door' explores the murkier corridors of No. 10 Downing Street, chronicling the relationships between intelligence agencies and the Prime Ministers of the last century. From Churchill's code-breakers feeding information to the Soviets to Eden's attempts to assassinate foreign leaders, from Wilson's paranoia of an MI5-led coup d'tat to Thatcher's covert wars in Central America, Aldrich and Cormac entertain and enlighten as they explain how our government came to rely on intelligence to the extent that it does today.
Tristan Gooley | How to Read Water | Sceptre 9781473615229 | £9.99 | 6th
A must-have book for walkers, sailors, swimmers, anglers and everyone interested in the natural world, in How To Read Water, Natural Navigator Tristan Gooley shares knowledge, skills, tips and useful observations to help you enjoy the landscape around you.
Includes over 700 clues, signs and patterns.
You'll learn how to:
Interpret ponds like a Polynesian
Spot dangerous water in the pitch black with the help of a clock face
Read the sea like a Viking
Forecast the weather from waves
Find your way with puddles
Decipher wave patterns on beaches
Decode the colour of water
Unravel a river like an expert
From wild swimming in Sussex to wayfinding off Oman, via the icy mysteries of the Arctic, Tristan Gooley draws on his own pioneering journeys to reveal the secrets of ponds, puddles, rivers, oceans and more to show us all the skills we need to read the water around us.
Giles Milton | The Ministry of Ungentlemanly Warfare | John Murray 9781444798982 | £9.99 | 6th
Six gentlemen, one goal – the destruction of Hitler's war machine
In the spring of 1939, a top secret organisation was founded in London: its purpose was to plot the destruction of Hitler's war machine through spectacular acts of sabotage.
The guerrilla campaign that followed was to prove every bit as extraordinary as the six gentlemen who directed it. Winston Churchill selected them because they were wildly creative and thoroughly ungentlemanly. One of them, Cecil Clarke, was a maverick engineer who had spent the 1930s inventing futuristic caravans. Now, his talents were put to more devious use: he built the dirty bomb used to assassinate Hitler's favourite, Reinhard Heydrich. Another member of the team, William Fairbairn, was a portly pensioner with an unusual passion: he was the world's leading expert in silent killing. He was hired to train the guerrillas being parachuted behind enemy lines.
Led by dapper Scotsman Colin Gubbins, these men – along with three others – formed a secret inner circle that planned the most audacious sabotage attacks of the Second World War. Winston Churchill called it his Ministry of Ungentlemanly Warfare. The six 'ministers', aided by a group of formidable ladies, were so effective that they single-handedly changed the course of the war.
Grayson Perry | The Descent of Man | Penguin 9780141981741 | £8.99 | 6th
Grayson Perry has been thinking about masculinity – what it is, how it operates, why little boys are thought to be made of slugs and snails – since he was a boy. Now, in this funny and necessary book, he turns round to look at men with a clear eye and ask, what sort of men would make the world a better place, for everyone?
What would happen if we rethought the old, macho, outdated version of manhood, and embraced a different idea of what makes a man? Apart from giving up the coronary-inducing stress of always being 'right' and the vast new wardrobe options, the real benefit might be that a newly fitted masculinity will allow men to have better relationships – and that's happiness, right?
Grayson Perry admits he's not immune from the stereotypes himself – as the psychoanalysts say, 'if you spot it, you've got it' – and his thoughts on everything from power to physical appearance, from emotions to a brand new Manifesto for Men, are shot through with honesty, tenderness and the belief that, for everyone to benefit, upgrading masculinity has to be something men decide to do themselves. They have nothing to lose but their hang-ups.
Despina Stratigakos | Hitler at Home | Yale 9780300222920 | £16.99 | 11th
A revelatory look at the residences of Adolf Hitler, illuminating their powerful role in constructing and promoting the dictator's private persona both within Germany and abroad
Adolf Hitler's makeover from rabble-rouser to statesman coincided with a series of dramatic home renovations he undertook during the mid-1930s. This provocative book exposes the dictator's preoccupation with his private persona, which was shaped by the aesthetic and ideological management of his domestic architecture. Hitler's bachelor life stirred rumors, and the Nazi regime relied on the dictator's three dwellings—the Old Chancellery in Berlin, his apartment in Munich, and the Berghof, his mountain home on the Obersalzberg—to foster the myth of the Führer as a morally upstanding and refined man. Author Despina Stratigakos also reveals the previously untold story of Hitler's interior designer, Gerdy Troost, through newly discovered archival sources.
At the height of the Third Reich, media outlets around the world showcased Hitler's homes to audiences eager for behind-the-scenes stories. After the war, fascination with Hitler's domestic life continued as soldiers and journalists searched his dwellings for insights into his psychology. The book's rich illustrations, many previously unpublished, offer readers a rare glimpse into the decisions involved in the making of Hitler's homes and into the sheer power of the propaganda that influenced how the world saw him.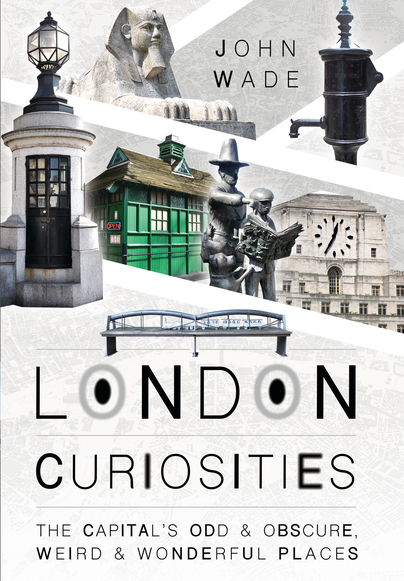 John Wade | London Curiosities | Pen & Sword 9781473879119 | £9.99 | 30th
London is full of curiosities. Who knew that beneath the Albert Memorial lies an undercroft resembling a church crypt? Or that there are catacombs under Camden? Who would expect to find a lighthouse in East London, sphinxes in South London, dummy houses in West London, or a huge bust of film director Alfred Hitchcock in North London?
How many of those who walk past Cleopatra's Needle pause to consider why a 3,000-year-old Egyptian monument stands beside the Thames? How many know that what was once London's smallest police station can be seen in Trafalgar Square? Or that pineapples are used in the architectural design of so many buildings? Or why there are memorials to the 'Mayflower' and Pilgrim Fathers in Rotherhithe?
These are just a few of the facets explored, described and illustrated here for anyone in search of the oddly obscure, wonderfully weird and surprisingly strange in this capital of curiosities.