January – March 2017 : New SA Titles 
Prices, cover images and publication dates subject to change
Jacket images are added as they become available from the publishers
Jonathan Ancer | Spy – Uncovering Craig Williamson | Jacana 9781431421497 | R260 | March
In 1972 Craig Williamson, a big, burly, bearded man, walked onto Wits University and registered as a student. He joined the National Union of South African Students (Nusas), and was on the frontline in the war against apartheid. At one march he was beaten up, arrested and spent a year on trial. Williamson rose up through the student movement's
ranks to become the Nusas vice president. After being harassed by security police and having his passport seized, he decided to flee the country to continue his activism with the International University Exchange Fund (IUEF), an anti-apartheid organisation in exile. He was eventually appointed the Fund's deputy director. As the IUEF's money
man, Williamson had access to powerful ANC and Black Consciousness leaders. He joined the ANC and formed his own unit to carry out clandestine work to topple the National Party government. But Williamson was not the anti-apartheid activist his friends and comrades thought he was. In January 1980, Captain Williamson was unmasked as a South Africa spy. His handler, Colonel Johan Coetzee, the head of South Africa's notorious security branch, flew to Sweden to bring him and his wife back home. Williamson was described as South Africa's superspy who penetrated the KGB.
Williamson returned to South Africa and during the turbulent 1980s worked for the foreign section of the South African Police's security branch. Two years after he left Switzerland he returned to Europe under a false name and with a crack squad of special force offcers to blow up the ANC's headquarters in London. He was also responsible for a parcel bomb that killed Ruth First in Mozambique and the bomb that killed Jeanette Schoon and her 6-year-old daughter Katryn in
Angola. He left the security branch to join Military Intelligence and fnally the State Security Council.
Apartheid's spies didn't have to appear before the Truth and Reconciliation Commission and a lot of information about the spies has been buried, burnt or shredded. This episode of our country's bitter past remains murky
C Ballantine, M Chapman, K Erwin and G Maré (eds) | Living Together? Living Apart? | UKZN 9781869143329 | R295 | February
These 'interventions' are spurred by what in South Africa today is a buzz-phrase: social cohesion. The term, or concept, is bandied about with little reflection by leaders or spokespeople in politics, business, labour, education, sport, entertainment and the media. Yet, who would not wish to live in a socially cohesive society? How, then, do we apply the ideal in the daily round when diversity of language, religion, culture, race and the economy too often supersedes our commitment to a common citizenry? How do we live together rather than live apart? Such questions provoke the purpose of these interventions.

The interventions – essays, which are short, incisive, at times provocative – tackle issues that are pertinent to both living together and living apart: equality/inequality, public pronouncement, xenophobia, safety, chieftaincy in modernity, gender-based abuse, healing, the law, education, identity, sport, new 'national' projects, the role of the arts, South Africa in the world. In focusing on such issues, the essays point towards the making of a future, in which a critical citizenry is key to a healthy society.

Contributors include leading academics and public figures in South Africa today: Christopher Ballantine, Ahmed Bawa, Michael Chapman, Jacob Dlamini, Jackie Dugard, Kira Erwin, Nicole Fritz, Michael Gardiner, Gerhard Maré, Monique Marks, Rajend Mesthrie, Bonita Meyersfeld, Leigh-Ann Naidoo, Njabulo S. Ndebele, Kathryn Pillay, Faye Reagon, Brenda Schmahmann, Himla Soodyall, David Spurrett and Thuto Thipe.
George Branch, Charles Griffiths, Margo Branch and Lynnath Beckly | Two Oceans | Struik Nature
9781775842750 | R390 | February
4th edition
For over two decades Two Oceans  has been the pre-eminent book to which scientists, students, divers and beachcombers turn to identify and learn about marine life, from sponges to whales and seaweeds to dune forests.
In this exuberantly colourful, fully revised fourth edition, over 2 000 species are now covered, names and other details have been updated to refl ect the latest taxonomy and many new photographs have been added.
Simon Bruinders | A Handful of Earth | Penguin SA 9781485903192 | R220 | March

For Abraham de Bruyn and the young men of The Island, World War II offers more than a chance to prove their mettle. Compensation for signing up to fight is a dream come true: each soldier will receive a piece of land to call his own. Having been removed to The Island years before from land at the foot of the majestic Outeniqua Mountains in the southern Cape, where they had lived and farmed for generations, they believe that Jan Smuts's war will finally put things right.
Leaving his young wife and family behind, Abraham travels to North Africa. With him is his brother, Stanley, and Kobus, a wayward Afrikaner who is fighting alongside the Allies against the wishes of his Nationalist father.
In Egypt, a fateful bullet sends Abraham home, but his battle is far from over as promises of land turn to dust. When in 1950 Abraham and his people are forced to move again, circumstances become almost unbearable. What does a good man have to endure for his own handful of earth?
Simon Bruinders's novel, first published in Afrikaans as Die Sideboard , is not only the story of a family caught up in the throes of history. It is also a rich chronicle of an often overlooked community that toiled on South African soil for centuries, and bears witness to the resilience of the human spirit.
Mario Cesare | Heart of a Game Ranger | Jonathan Ball 9781868427529 | R250 | January
Predictability isn't a word you will find in any Bushveld dictionary, and the life of wildlife guardian Mario Cesare has been anything but. After years as warden of Olifants River Game Reserve, his feet are firmly planted in this magnificent slice of Big Five country to the west of the Kruger Park, where he has experienced a rich life packed full of incidents far from routine.
In Heart of a Game Ranger, Cesare recounts some of these hair-raising, heart-breaking and heart-warming moments: a buffalo calf reunited with its pining mother, injured lions given second chances and rhinos lost, one by one, to poaching.
Nestled among these tales, Cesare pays homage to the brave, dedicated and curious personalities engaged in a deadly combat on the most majestic of battlefields. Yet, while rhino poaching is by far the reserve's biggest problem, Cesare reveals how the daily struggles of a game ranger are so much broader – and the rewards, when they come, immense.
Heart of a Game Ranger is a story of extremes, one of fierce loyalty and devastating betrayal where spectacular days that end in exhausted satisfaction and achievement are balanced by those that leave behind only despair and frustration.
Seen through his eyes and spoken from the heart, Cesare tells a deeply personal story – not only of a life lived wild, but of the joy of Africa's incredible natural world.
Ashwin Desai | Reverse Sweep | Fanele 9781928232261 | R240 | January
This book is an account of cricket in post-apartheid South Africa; from the tumultuous Gatting tour in which, ironically, the seeds of cricket unity were sown, to the Hansie Cronje saga and the change of leadership from Ali Bacher to Gerald Majola, and more recently to Haroon Lorgat.
It is a story of a new pitch; a quick start full of hope, followed by a steady erosion of the commitments needed to fulfil the promise of a level playing field. Economic and political compromises contributed to holding back the piercing of the covers of race and class privilege. Alongside this, the hurried hollowing out of the "politics of cricket", aided by black administrators assuming the accoutrements of office, saw very little internal challenge to the lack of transformation.
Meanwhile, global realignments in cricket initially gave South Africa some respite. But soon, the big three of Australia, England and India were collaborating to claim the lion's share of global funding, thus limiting even further the resources necessary for development in the domestic game.
In a sense, we are back to the Springfield-Kingsmead divide. But there will be no posthumous honours, however grudgingly given, to lovers of the game who are keeping it alive in townships or side streets. Those whose innings are defined by lumpy mats and broken gear garner far less sympathy or note. For is cricket not now open to all, just like the Ritz Hotel; a game of money, dazzle, dancing girls and quick results?
MR Doornbros and WMJ Van Bingsbergen | Researching Power and Identity in African State Formation | Unisa 9781868886579 | R580 | March
Co-published LIT Verlag.
The book illuminates key aspects of how, historically, the dynamics of power and identity interact in the African context, generating the kind of political structures and collective actions that have often appeared characteristic for the continent. It examines some salient dimensions of the broader frameworks of hegemony and power imposed upon African societies in the context of larger geopolitical and historical processes.  Power and identity are two key concepts which can be applied in describing African realities. The interaction and connections between the two concepts are, moreover, of key importance in the African context, as their studies demonstrate.
In common with other scholars in this area of study, the authors acknowledge that underlying their work is a compelling fascination with the continent's evolving social and cultural forms. Their insight into African social reality reflects a fragile and fragmented continent capable of bringing forth a great variety of agents and actors in the interplay of social and political power: power vested in a variety of groups, ethnicities, religions or classes, with potential to impose on the identity of others.
CM Elliott | Sibanda and the Black Sparrow | Jacana 9781431402632 | R240 | March
Detective Inspector Jabulani Sibanda, a hard-bodied, bush-loving, instinctive crime fghter, is the focus of this series. He is based in a village on the borders of a national park in Matabeleland, but no one quite understands why such a rising star in the Zimbabwe police force has been banished to a rural backwater. The detective doesn't object to the posting as it gives him the opportunity to pursue his passion for elephants, birds, trees, all things wild, and the love of his life, the illusive Berry Barton.
The series also features his sidekick, Sergeant Thadeus Ncube, an overweight, bumbling, multi-married policeman with a delicate digestive system who adores food, fshing and matters mechanical. He is both more astute than his physical presence might imply and a discerning judge of character. It helps that the sergeant loves motors because the third in this triumvirate of law enforcers is Miss Daisy, an ancient, battered and truculent Land Rover that huffs and puffs through the bush, steams with indignation and breaks down at the most inappropriate moments. She is the bane of Sibanda's
life and the love of Ncube's.
The comely PC Khumalo and the obsessively ordered and religious offcer-in-charge, Stalin Mfumu, AKA Cold War, add to the mix at Gubu police station.
Franco Frescura and Joyce Myyeza | Illustrated English-isiZulu Glossary of Architectural Terms | UKZN Press 9781869143497 | R255 | January
Since 1994 South Africa has undergone a steady erosion of its indigenous built environment, with a concomitant loss of indigenous building technology and its specialised terminology.

This glossary is based on the premise that you cannot understand the culture of a people unless you have a grasp of the nuances and hidden meanings of their language and brings together in one single volume the terminologies that are used by southern Africa's rural builders. It covers the terminology used by indigenous builders as well as subsequent colonial white settlers including buildings of the so-called Cape Dutch, English Georgian, Victorian and Indian Traditions.

The text is set out in alphabetical order. It comprises each term in its original language, its translation where appropriate into isiZulu, and its definition in English and isiZulu. One of the strengths of this book is its visual component of accompanying sketches that expertly illustrate the terms.

This book is designed not only to assist in the teaching of architecture, but also to aid others who are interested in the field. Researchers and practitioners in disciplines such as anthropology, archaeology, culture studies and building science will find it a valuable addition to their libraries.
Gail Gerhart, Thomas Karis and Gwendolen Carter | From Protest to Challenge Vol 4 – Political Profiles 1882 – 1990 | Jacana 9781770098831 | R450 | March
From Protest to Challenge Volume 4: Political Profles, 1882–1990, in Jacana's second edition of the six volumes of From Protest to Challenge, profles over six hundred individual activists who played important political roles during the century before the abolition of apartheid in 1990. Among those included are John Dube, Clements Kadalie, Albert Luthuli,
Steve Biko, Beyers Naudé and Joe Slovo, as well as Ellen Kuzwayo, Jay Naidoo, Robert McBride, P.K. Leballo and Patricia de Lille.
These books are a wonderful resource for future generations of scholars.
The publication of the Vol. 4 completes the series.
From Protest to Challenge Vol. 1
Protest and Hope, 1882–1932
SHERIDAN JOHNS
REVISED AND UPDATED BY GAIL M. GERHART AND SHERIDAN
JOHNS
Protest and Hope 1882–1934 consists of ninety-nine primary source documents, accompanied by a text that sets the
documents in historical context.
From Protest to Challenge Vol. 2
Hope and Challenge, 1935–1952
THOMAS G. KARIS AND SHERIDAN JOHNS
REVISED AND UPDATED BY GAIL M. GERHART
The years 1935–1937 mark a major turning point in African politics in South Africa, during which times Africans of
widely differing political convictions united to protest against the renewed threat to the real though limited rights of
enfranchised African. The heightened political agitation of this period shaped the organisational and tactical issues of
subsequent African politics.
Lindiwe Hani and Melinda Ferguson | Being Chris Hani's Daughter | Jacana 9781920601812 | R225 | March
When Chris Hani, leader of the South African Communist Party and heir apparent to Nelson Mandela, was brutally slain in his driveway in April 1993, he left a shocked and grieving South Africa on the precipice of civil war. But to 12-year-old Lindiwe, it was the love of her life, her daddy, who had been shockingly ripped from her life.
In this intimate and brutally honest memoir, 36-year-old Lindiwe remembers the years she shared with her loving
father, and the toll that his untimely death took on the Hani family. She lays family skeletons bare and brings to the fore
her own downward spiral into cocaine and alcohol addiction, a desperate attempt to avoid the pain of his brutal parting.
While the nation continued to revere and honour her father's legacy, for Lindiwe, being Chris Hani's daughter became an
increasingly heavy burden to bear.
For as long as I can remember, I'd grown up feeling that I was the daughter of Chris Hani and that I was useless. My father was such a huge fgure, such an icon to so many people, it felt like I could never be anything close to what he achieved – so why even try? Of course my addiction to booze and cocaine just made me feel my worthlessness even more.
In a stunning turnaround, she faces her demons, not just those that haunted her through her addiction, but, with the
courage that comes with sobriety, she comes face to face with her father's two killers – Janus Walus, still incarcerated, and Clive Derby Lewis, released in 2015 on medical parole. In a breathtaking twist of humanity, while searching for the truth behind her father's assassination, Lindiwe Hani ultimately makes peace with herself and honours her father's gigantic spirit.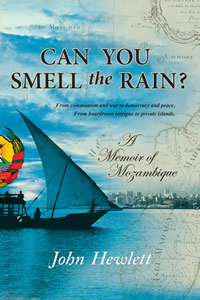 John Hewlet | Can You Smell the Rain? | 30º South 9781928359029 | R295 | January
This is a true African tale of persistence and tenacity.
The story of a farmer and pilot raised in colonial Kenya who went on to play an active role in Mozambican politics whilst leading Lonrho's foreign investment in that country.
This unique memoir describes life during Mozambique's transition from communism to democracy, from poverty to an investor's choice. It has been a life creating farms, gold mining and operating hotels through war and peace. Then supporting peasant farmers and developing the conservation of a private tropical island.
It is proof that nothing is impossible and Africa offers opportunity to those who persist.
It is a personal record of the changes in modern Africa and Mozambique in particular an investor's destination. It should also be an enjoyable read.
Michiel Heyns | I Am Pandarus | Jonathan Ball 9781868427758 | R250 | March
I am Pandarus is a retelling, from a modern perspective, of the story of Troilus and Criseyde, as previously told by Chaucer and Shakespeare. The narrator in Michiel Heyns' lively iteration is the go-between, Pandarus. But the novel opens in a gay bar in present-day London when an editor at a publishing house, recently abandoned by his lover, is accosted by a charismatic stranger.
The stranger turns out to be the modern avatar of Pandarus, intent on getting his version of events published; countering the unflattering portrait of him that Shakespeare has given to the world.
The main body of the novel is Pandarus' retelling of the story of Troilus and Criseyde from his own very particular point of view.
This central narrative is interspersed with periodic meetings of the editor with Pandarus, as the latter supplies instalments of his tale. The result is an urbane and sparkling rendition of a classical tale, in a style which old and new fans of award-winning Michiel Heyns will love.
Erik Holm | Insectpedia | PRH SA 9781775841982 | R300 | March
Insectopedia  uncovers the fascinating and infinitely varied world of insects. It explores their intriguing behaviour and biology – from mating and breeding, metamorphosis and movement to sight, smell, hearing and their adaptations to heat and cold.
A chapter on superorganisms probes the curious phenomenon of social communities among insects; another covers the critical role that these creatures play in maintaining the fragile balance of life on our planet.
The book concludes with a 60-page illustrated field guide, describing most insect orders and their main families.
Previously published as Insectlopedia of Southern Africa, this fully revised and redesigned edition includes up-to-date information throughout, an expanded ID section, and several hundred new photographs.
RW Johnson | How Long Will South Africa Survive? The Current Crisis | Jonathan Ball  9781868427628 | R265 | February
In 1977, RW Johnson's best-selling How Long Will South Africa Survive? provided a controversial and highly original analysis of the survival prospects of apartheid. Now, after more than twenty years of ANC rule, he believes the situation has become so critical that the question must be posed again.
'The big question about ANC rule', he writes, 'is whether African nationalism would be able to cope with the challenges of running a modern industrial economy. Twenty years of ANC rule have shown conclusively that the party is hopelessly ill-equipped for this task. Indeed, everything suggests that South Africa under the ANC is fast slipping backward and that even the survival of South Africa as a unitary state cannot be taken for granted. The fundamental reason why the question of regime change has to be posed is that it is now clear that South Africa can either choose to have an ANC government or it can have a modern industrial economy. It cannot have both.'
Johnson's analysis is strikingly original and cogently argued. He has for several decades now been the senior international commentator on South African affairs, known for his lucid analysis and complete lack of deference towards the conventional wisdom.
Leonie Joubert and OZCF volunteers | Oranjezicht City Farm | Jacana  9780620701969 | R280 | January

The Oranjezicht City Farm has captured the imagination of Cape Town and beyond, championing urban farming and better access to healthy food. Founded on a disused bowling green by neighbourhood volunteers, it quickly became a rallying point for people wanting to make their community better, and an inspiration for others seeking alternatives to
the mainstream industrial food system. Since 2012, this small educational non-proft project has hosted thousands of school children, and through its weekly farmer's market supports numerous small, local farms, dozens of artisanal food purveyors and the hundreds of jobs they provide.
Award-winning science journalist, Leonie Joubert, went behind the scenes to unpack what makes this project work, to
understand its inspirations and ambitions, conflicts and dreams.
This book braids the many voices of founders, farmers, neighbours, government offcials and more into a fascinating account of how one group of volunteers brought about change for the better in their community and beyond, and how that can inspire and assist others.
Filled with gorgeous images from across the seasons, it also contains recipes that reflect the community spirit of the farm, and points toward the future of food and farming in Cape Town.
Harry Kalmer | A Thousand Tales of Johannesburg  | Penguin SA 9781485903475 | R230 | January
Thousand Tales of Johannesburg  is Harry Kalmer's spellbinding ode to Johannesburg and its people.
This is the story of Sara, who poses stiffly for a photo with her four children at Turffontein concentration camp in 1901, and of Abraham, who paints the street names on Johannesburg's kerbs. It is the tale of their grandson Zweig, a young architect who has to leave Johannesburg when he falls in love with the wrong person, and of Marceline, a Congolese mother who flees to the city only to be caught up in a wave of xenophobic violence.
Spanning more than a hundred years, A Thousand Tales of Johannesburg  is a novel that documents and probes the lives of the inhabitants of this incomparable African city – the exiled, those returning from exile, and those who never left.
John Kane-Berman | Between Two Fires | Jonathan Ball 9781868427697 | R275 | March
John Kane-Berman is uniquely qualified to look back over the enormous political and social changes that have taken place in his lifetime in this fractious country. In his career as student leader, Rhodes Scholar, newspaperman, independent columnist, speech maker, commentator, and Chief Executive, for thirty years, of the South African Institute of Race Relations, Kane-Berman has been at the coal face of political change in South Africa.
The breadth and depth of ideas and events covered here are striking: the disintegration of apartheid, the chaos of the 'people's war' and its contribution to the broader societal breakdown we see today, the liberal slide-away, the authoritarian ANC with its racial ideology and revolutionary goals, to mention only a few.
Kane-Berman's willingness to confront received wisdom is thoroughly refreshing, and he is forthright about the threats to freedom, democracy, and growth in contemporary South Africa, many of which he identified even before the ANC came to power.
Writing, debate, and reasoned argument have been Kane-Berman's stock in trade and his clarity of vision and personal insight have created a memoir of rare candour and absorbing interest.
Brian Kantor | Get South Africa Growing | Jonathan Ball 9781868427635 | R250 | March
South Africans have been poorly served by the economic choices their governments have made. The consequences of these choices are everywhere to be seen but most importantly in unemployment and poverty.
In this book Brian Kantor advances spirited economic arguments for freer markets and less government intervention and regulation of the South African economy; the book will add significantly to a layman's understanding of how our economy works.
It offers a succinct review of all the key drivers that determine a modern economy's performance as well as the key institutions of a modern economy. The book presents an insightful review of the challenges facing the South African economy and its policy makers.
Kantor's sound economic insights, enriched by his familiarity with current affairs and developments in the local political milieu and financial markets, make his book a key and important contribution to the continuing debate which rages around our failing economy – indeed it presents solutions which policy makers ignore at their (and our) peril.
Ahmed Kathrada | Conversations With a Gentle Soul | Pan Macmillan SA 9781770105409 | R175 | February
Without much fanfare Ahmed Kathrada worked alongside Nelson Mandela, Walter Sisulu and other giants in the struggle to end racial discrimination in South Africa. He faced house arrest and many court trials related to his activism until, finally, a trial for sabotage saw him sentenced to life imprisonment alongside Mandela and six others.
Conversations with a Gentle Soul has its origins in a series of discussions between Kathrada and Sahm Venter about his opinions, encounters and experiences. Throughout his life, Kathrada has refused to hang on to negative emotions such as hatred and bitterness. Instead, he radiates contentment and the openness of a man at peace with himself. His wisdom is packaged within layers of optimism, mischievousness and humour, and he provides insights that are of value to all South Africans.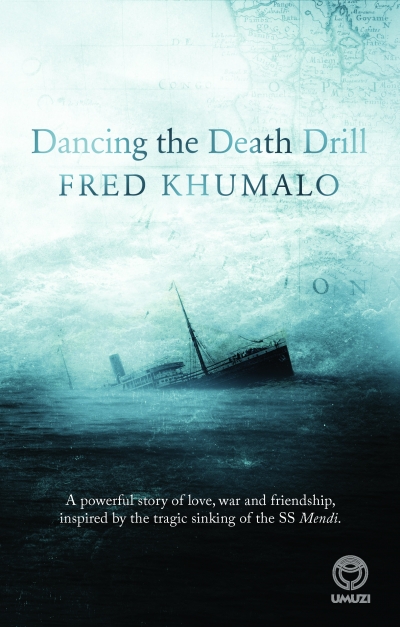 Fred Khumalo | Dancing the Death Drill | Fred Khumalo | Umuzi 9781415209493 | R230 | January 
Paris, 1958. A skirmish in a world-famous restaurant leaves two men dead and the restaurant staff baffled. Why did the head waiter, a man who's been living in France for many years, lunge at his patrons with a knife?
As the man awaits trial, a journalist hounds his long-time friend, hoping to expose the true story behind this unprecedented act of violence.
Gradually, the extraordinary story of Pitso Motaung, a young South African who volunteered to serve with the Allies in the First World War, emerges. Through a tragic twist of fate, Pitso found himself on board the ss Mendi, a ship that sank off the Isle of Wight in February 1917. More than six hundred of his countrymen, mostly black soldiers, lost their lives in a catastrophe that official history largely forgot. One particularly cruel moment from that day will remain etched in Pitso's mind, resurfacing decades later to devastating effect.
Dancing the Death Drill  recounts the life of Pitso Motaung. It is a personal and political tale that spans continents and generations, moving from the battlefields of the Boer War to the front lines in France and beyond. With a captivating blend of pathos and humour, Fred Khumalo brings to life a historical event, honouring both those who perished in the disaster and those who survived.
Douglas Kruger | They're Your Rules … Break Them! | Penguin SA 9781776090648 | R220 | January
This book offers 50 innovative ways of looking at your business as a long-term, dynamic, progressive entity. Here you will find 50 ways to ditch the atrophying forces and create an exponentially achieving, high-performance culture in your organisation.
Some rules help us, but some don't. Do you know which to ditch? And do you know how to create a dynamic, learning culture that doesn't rely on blind bureaucracy? Elon Musk did it with Tesla and Space-X. Pixar does it too. The Israeli Defence Force and US Navy SEALS have been doing it for decades, and their results have been astonishing.
In a world of exponential organisations, rule-bound dinosaurs will fall and fade. But you don't have to.
They're your rules. Break them!
Ross Larter | How to Make Money on the Stock Exchange | Penguin SA 9781776090853 | R210 | January
Learn the skills of trading on the stock market, and it can provide you with the opportunity to generate an income well into your retirement years. To those who have walked the journey for a while, the stock market becomes like an all-you-can-eat buffet, providing opportunity on a daily basis for individuals to make money for themselves and their families.
How to Make Money on the Stock Exchange  is written for the ordinary person, in everyday language, with the purpose of helping the beginner to understand how the market works, and how to use this knowledge to acquire the necessary skills to generate a secondary (and potentially a primary) income by investing and/or trading on the markets.
You don't need to be a financial whizz-kid to make money on the stock market. All you have to do is be willing, and take the time, to learn about it. This book will show you how.

Marah Louw | It's Me, Marah | Marah Louw | Jacana 9781928337379 | R250 | March
This is the autobiography of the daughter of a priest from Mzimhlophe Township who found her voice as a gifted child
star, became a celebrated theatre performer, award-winning solo artist, National Orchestra-backed diva, performer
extraordinaire for kings and queens and political leaders. She defed all obstacles and is now a recipient of two Lifetime
Achievement Awards for her craft. Marah Louw tells her story with the candour, humility and humour intrinsic to her
character and with a passion that only hindsight and real experience can give.Growing up, they nicknamed her 'Madipere' – a Sesotho expression that loosely translates to "wild horse" –
something bucking, agitating, non-conformist, invigorated, determined, strong, feral and passionate. That defned
her in many ways, and that energy would lead to a life of adventure, travel, entertainment, success on one hand
and abuse, loss, struggle, scandal, heartbreak, even public humiliation on the other. She has constantly pushed against
the traditionalism of her community, sexism of her society, and racism of her country, but has always been buffered by
the innate Madipere spirit to keep on moving on.
Dale T McKinley | South Africa's Corporatised Liberation | Jonathan Ball 9781928232322 | February
South Africa's democracy is in trouble. The present situation is, in objective terms, a house divided; a house that is tottering on rotten foundations. Despite the more general advances that have been made under the ANC's rule since 1994, power has not only remained in the hands of a small minority but has increasingly been exercised in service to capital. The ANC has become the key political vehicle – in party and state form as well as application – of corporate capital: domestic and international, black and white, local and national, and constitutive of a range of different fractions. As a result, 'transformation' has largely taken the form of acceptance of, combined with incorporation into, the capitalist 'house', now minus its formal apartheid frame.
What has happened in South Africa over the last 22 years is the corporatisation of liberation, the political and economic commodification of the ANC and societal development. Those in positions of leadership and power within the ANC have allowed themselves to be lured by the siren calls of power and money, to be sucked in by the prize of 'capturing' institutional sites of power, to be seduced by the egoism and lifestyles of the capitalist elite.
This book tells that 'story' by offering a critical, fact-based and actively informed holistic analysis of the ANC in power, as a means to: better explain and understand the ANC and its politics as well as South Africa's post-1994 trajectory; contribute to renewed discussion and debate about power and democracy; and help identify possible sign-posts to reclaim revolutionary, universalist and humanist values as part of the individual and collective struggle for the systemic change South Africa's democracy needs.
Canadian political publisher Fernwood will be publishing Dale McKinley's South Africa's Corporatised Liberation later this year. 'In an era when the restructuring of capitalism seems to be threatening to erase many of the gains that have been made by the oppressed in society, we think that our books have a part to play in bucking the trend.' – Errol Sharpe, Fernwood Publishing.
Ramphele Mamphela | Dreams, Betrayal and Hope | PRH SA 9781776090921 | R220 | March
Systematically since 1994 the ANC government has betrayed the dream of democracy. A dream that imagined equality, the end of poverty, a thriving economy, and a just and prosperous future for all. Most devastatingly this betrayal can be seen in the failure of educational institutions to develop the talents and skills of the young generations. Given the 'Fallist' protests, given the public service delivery protests, given the voters' message to the ANC in the municipal elections, ordinary people are suffering. Poverty still wears a black face. White racism becomes ever more strident.
The country needs to hope again.
In this searing critique of what's gone wrong in the public and private sectors, Mamphela Ramphele turns to the tenets of black consciousness and argues for an 'emotional settlement' to heal the trauma of colonialism and apartheid that still ravages both black and white communities. Emotional settlement would unlock empathy for others and unleash the potential of all citizens to work together for a 'socio-economic settlement' to promote social justice and equality for all. 'It is time,' she says, 'to reimagine the country and its future. We owe this to our children's children. We dare not fail.'
Mohale Mashigo | The Yearning | Pan Macmillan SA 9781770104839 | R TBC | March
'My mother died seven times before she gave birth to me. I am grateful for that corpse that somehow always seemed to resurrect itself. My father is gone but his smile is alive on my brother's face. There is no life without death; the two rely on each other and we rely on them both for our purpose. A new mother knows her purpose when she holds her baby within her and in her arms for the first time. A man's work has its purpose in death, as part of his legacy. Why then do we love the one and despise the other? Why do we sacrifice so much of the present to hide the past? Why do we take away the future's knowledge of itself in order to make the past seem perfect?'
Yearning (noun): A feeling of intense longing for something.
How long does it take for scars to heal? How long does it take for a scarred memory to fester and rise to the surface? For Marubini, the question is whether scars ever heal when you forget they are there to begin with.
Marubini is a young woman who has an enviable life in Cape Town, working at a wine farm and spending idyllic days with her friends … until her past starts spilling into her present. Something dark has been lurking in the shadows of Marubini's life from as far back as she can remember. It's only a matter of time before it reaches out and grabs at her.
The Yearning is a memorable exploration of the ripple effects of the past, of personal strength and courage, and of the shadowy intersections of traditional and modern worlds.
Sally Matthews | (ed) | NGOs and Social Justice in South Africa and Beyond | UKZN Press 9781869143282 | R360 | February 
Non-Governmental Organisations (NGOs) are regarded by many as vital role players in improving the lives of the poor and bringing about social justice. This book includes contributions from NGO workers, academics and social movement activists in order to provide varying perspectives on what possible role NGOs can rightly play in popular struggles. Consequently, the book does not have a single message about what role NGOs ought to play in struggles for social justice, but rather invites careful reflection and critical discussion on their role both in South Africa and further afield.
Jay Naidoo | Change: Organising Tomorrow, Today | Penguin SA 9781776091805 | R200 | March
Unless there is significant change, the world is heading for an explosion. The growing gap between rich and poor is dangerous and unsustainable. The plundering of resources is damaging our planet. Something has to be done.
In this book, Jay Naidoo harnesses his experience as a labour union organiser, government minister, social entrepreneur and global thought leader, and explores ways of solving some of the world's biggest problems. Drawing from his experiences in South Africa, Nigeria, Brazil, Bangladesh and other countries, he presents a variety of options for ending poverty and global warming, with a focus on organising in our communities and building change from below and beyond borders.
Naidoo's message is unequivocal: significant action must be taken immediately if we want future generations to live in a world that we take for granted today.
Michael Neocosmos | Thinking Freedom | WUP 9781868148660 | R500 | February
Previous ways of conceiving the universal emancipation of humanity have in practice ended in failure. Marxism, anti-colonial nationalism and neo-liberalism all understand the achievement of universal emancipation through a form of state politics. Marxism, which had encapsulated the idea of freedom for most of the twentieth century, was found wanting when it came to thinking emancipation because social interests and identities were understood as simply refl ected in
political subjectivity which could only lead to statist authoritarianism. Neo-liberalism and anti-colonial nationalism have also both assumed that freedom is realisable through the state, and have been equally authoritarian in their relations to those they have excluded on the African continent and elsewhere.
Thinking Freedom in Africa then conceives emancipatory politics beginning from the axiom that 'people think'. In other words, the idea that anyone is capable of engaging in a collective thought-practice which exceeds social place, interests and identities and which thus begins to think a politics of universal humanity. Using the work of thinkers such as Alain Badiou, Jacques Rancière, Sylvain Lazarus, Frantz Fanon and many others, along with the inventive thought of people themselves in their experiences of struggle, the author proceeds to analyse how Africans themselves – with agency of their own – have thought emancipation during various historical political sequences and to show how emancipation may be thought today in a manner appropriate to twenty-fi rst century conditions and concerns.
Peter Ryan | Guide to Seabirds of Southern Africa | PRH SA 9781775845195 | R180 | March
Seabirds hold a special place in the hearts of birders, not least because of the challenge of getting to grips with a group of birds that is largely inaccessible, and living in an often hostile habitat. Guide to Seabirds of Southern Africa  is the first book focusing exclusively on the nearly 1,000 birds that occur around the southern African coastline and adjacent Southern Ocean.
This book is primarily an identification guide, but the author also includes information about these birds' fascinating biology and behaviour. The text is richly supported with photographs, as well as distribution maps for all the birds. A detailed introduction covers, among other topics, seabird origins, havens, feeding, breeding and conservation, as well as how best to watch and photograph these enigmatic birds.
Guide to Seabirds of Southern Africa  is an authoritative, first-of-its-kind, essential, volume for birders' libraries.
Karim Sadr, Amanda Esterhuysen and Christine Sievers | African Archaeology Without Frontiers | WUP 9781776140343 | R380 | February
Confronting national, linguistic and disciplinary boundaries, contributors to African Archaeology Without Frontiers argue against artifi cial limits and divisions created through the study of 'ages' that in reality overlap and cannot and should not be understood in isolation. Papers are drawn from the proceedings of the landmark 14th PanAfrican Archaeological Association Congress, held in Johannesburg in 2014, nearly seven decades after the conference planned for 1951
was re-located to Algiers for ideological reasons following the National Party's rise to power in South Africa.
Contributions by keynote speakers Chapurukha Kusimba and Akin Ogundiran encourage African archaeologists to practise an archaeology that collaborates across many related fi elds of study to enrich our understanding of the past. The nine papers cover a broad geographical sweep by incorporating material on ongoing projects throughout the continent including South Africa, Botswana, Cameroon, Togo, Tanzania, Kenya and Nigeria. Thematically, the
papers included in the volume address issues of identity and interaction, and the need to balance cultural heritage management and sustainable development derived from a continent racked by social inequalities and crippling poverty.
Edited by three leading archaeologists, the collection covers many aspects of African archaeology, and a range of periods from the earliest hominins to the historical period. It will appeal to specialists and interested amateurs.
Gail Schimmel | The Park | Pan Macmillan 9781770105157 | R260 | February
Rebecca doesn't expect to make new friends at this stage of her life. But when she becomes mother to little Amy, she finds herself spending her afternoons in the park. There she meets other mothers: first flamboyant, fun Rose, and then single-mom Lilith, whose inner strength is tangible, and whose eyes never leave her toddler.
Very soon the women have formed a trio – the type of friends who feel at home in each other's kitchens – and their daughters begin to behave like sisters. But Rebecca is about to learn that friendship is not always what it seems, and that sometimes you trust the wrong people. At exactly the moment when she needs to lean on them, one of her new friends harbours a shocking secret, and the other will turn on her in a way she could never have anticipated.
Her two park friends will change Rebecca's life – and her family – forever.
Chris Schoeman | The Historical Overberg | PRH SA 9781776090723 | R285 | March
Situated between the Hottentots Holland Mountains and the Breede River, the Overberg is an important agricultural region and a popular holiday destination for tourists and nature lovers who delight in the beauty of its mountainous landscape, abundant plant species and long sandy beaches.
But this area also has a rich history going back thousands of years, when the indigenous Khoi people originally thrived there, before the first European settlers arrived to leave their own indelible imprint on the culture, architecture and character of the region. This book provides a detailed account of this past by pointing out the many places, buildings, events and personalities that have made the Overberg the diverse and unique place that it is today.
The Overberg has been a home or point of interest for explorers, innovators, artists and writers, for figures as varied as Bartholomew Diaz, Olof Bergh, Hendrik Verwoerd, Gregoire Boonzaier, Audrey Blignault and Breyten Breytenbach. Some of South Africa's oldest towns, houses and missionary stations can be found here, and its treacherous coastline has been the cause of hundreds of shipwrecks for centuries.
Enlivened by historical and current photographs and informative side panels, this book is a collector's item.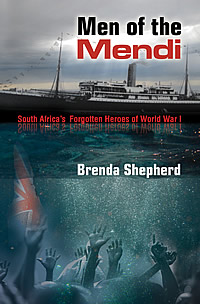 Brenda Shepherd | Men of the Mendi | 30º South 9781928359043 | R250 | February
This is the story of the sinking of the SS Mendi during WW1, the bravery of the men on board and the ensuing inquiry conducted by the Board of Trade in London. The story follows the small band of survivors to France where they complete their tour of duty.
The First World War rages in Europe, it is a white man's war, but when the British government calls for 10 000 black soldiers to be sent to France as a labour force, men from around South Africa volunteer for service. In the foothills of the Drakensberg, Kula Hlongwane, an amaNgwane prince steps forward, followed by a group of his tribesmen. Madondo is ordered to accompany them. For him it is a nightmare from which there is no escape.
When crossing the English Channel on the troopship, the SS Mendi, lights loom out of the thick black fog, then a siren blasts. With no time to avoid the collision, the Mendi is struck a devastating blow on the starboard side where Kula and his men lie sleeping. Within minutes, the Mendi begins to sink.
The book makes use of various historical documents and the transcripts from the inquiry held in London by the Board of Trade to establish causality for the large loss of life. On conclusion of the inquiry, these transcripts were declared 'secret' and concealed from view for the next 50 years. Men of the Mendi gives an in depth account of the inquiry and the apparent reason for the cover-up.
Nicol Stassen | The Thirstland Trek | Protea Book House 9781485300366 | R750 | January
During the late nineteenth century a number of organised treks left the Transvaal. The first of these left the ZAR in May 1874. Seven years later, in January 1881, after the amalgamation of the first three treks, they settled at Humpata on the Hufla highlands in the Portuguese colony of Angola. From 1892 to 1894 three further major treks followed. After the last major trek in 1907 the Portuguese government prohibited further treks. In 1928 about 2000 Angola Boers were repatriated to South-West Africa, while 380‒470 remained in Angola. These treks were complex phenomena as a result of economic, religious and political factors. Initially, resistance to the "irreligious" and "liberal" government of T.F. Burgers were the most important reasons for the trek. New labour legislation, political uncertainty, internal dissent in the Transvaal and economic factors also contributed to the dissatisfaction. Lack of sufficient farming land, population pressure, poverty, misgivings about new taxes and the search for new hunting grounds probably played a minor role. Dread of modernisation and British imperialism, the introduction of intensive farming, gold fever, drought or natural disasters and the "trekking spirit" or "trek fever" probably played no role at all.
Alex van den Heever, Renias Mhlongo and Karel Benadie | Tracker Manual | PRH SA 9781775843351 | R290 | March
This practical guide to animal tracking is a one-of-its-kind manual, based on information developed with the help of southern Africa's few remaining traditional trackers and their centuries-old wisdom in the field.
It presents the more concrete and obvious wildlife signs for some 160 animals and teams them with a host of seemingly unrelated details to give a comprehensive picture of recent – and not-so-recent – traffic through the bush.
Simple, bulleted text guides readers through the key points and teaches the broad-based observational skills required to detect and interpret messages; multiple photographs, some annotated, along with accurate track drawings for all the animals, offer a clear visual guide too.
Rich in detail, accurate, and with an instructive introduction, this guide to the region's animal tracks and signs is every tracker's go-to manual.
Marita van der Vyver | You Lost Me | Penguin SA 9781485903536 | R250 | February
Willem Prins wanders the streets of Paris, disillusioned and glum. Once, he showed great promise as a South African writer of distinction, but years of disappointment have left their mark. Drowning himself in the Seine may well be the only option left to drive up his book sales.
His reason for being in Paris – the French translation of an erotic novel he wrote under a pseudonym – is not exactly something to be proud of. He is no stranger to Paris. An ex-wife of his (one of three) lives in the city with his eldest son, a young man who barely knows his father.
Willem finds an unlikely companion in Jackie, a young South African working as an au pair in the city, a woman old enough to be his daughter. Together, the two of them will face the chaos of the terror attacks on Friday the thirteenth in Paris.
You Lost Me  is bestselling author Marita van der Vyver's thirteenth novel, a story about life's thunder clouds and the bonds between us that offer shelter. It is a tale of disillusionment and loss, told with warmth and wicked humour.
Ivan Vladislavic | The Exploded View | Umuzi 9781415207260 | R230 | February
'The boundaries of Johannesburg are drifting away, sliding over pristine ridges and valleys, lodging in tenuous places, slipping again. At its edges, where the city fades momentarily into the veld, unimaginable new atmospheres evolve…'
This half-made world beside the freeways, where Tuscan townhouses are jostled together with township matchboxes and shanties, is the setting for Ivan Vladislavić's book. In a quartet of interlinked fictions, he unfolds the stories of four men – a statistician employed on the national census, an engineer out on the town with his council connections, an artist with an interest in genocide and curios, and a contractor who puts up billboards on building sites. As they try to make sense of a changed world, themes seldom explored in South African fiction come vividly to life.
Ranging effortlessly across distance and time, Vladislavić deftly explodes our comfortable views and shows us what lies behind the seductive surfaces.
Edward Webster and Karin Pampallis | The Unresolved National Question in South Africa | WUP 9781776140220 | R380 | March
The re-emergence of debates on the decolonisation of knowledge has revived interest in the National Question, which began over a century ago and remains unresolved. Tensions that were suppressed and hidden in the past are now being openly debated. Despite this, the goal of one united nation living prosperously under a constitutional
democracy remains elusive.
This edited volume examines the way in which various strands of left thought have addressed the National Question, especially during the apartheid years, and goes on to discuss its relevance for South Africa today and in the future. Instead of imposing a particular understanding of the National Question, the editors identifi ed a number of political traditions and allowed contributors the freedom to defi ne the question as they believed appropriate – in other words, to
explain what they thought was the Unresolved National Question. This has resulted in a rich tapestry of interweaving perceptions.
The volume is structured in two parts. The first examines four foundational traditions – Marxism-Leninism (the Colonialism of a Special Type thesis); the Congress tradition; the Trotskyist tradition; and Africanism. The second part explores the various shifts in the debate from the 1960s onwards, and includes chapters on Afrikaner nationalism, ethnic issues, Black Consciousness, feminism, workerism and constitutionalism.
The editors hope that by revisiting the debates not popularly known among the scholarly mainstream, this volume will become a catalyst for an enriched debate on our identity and our future.
Hans Wegelin | Construction Primer (2nd edn) | Protea Bookhouse 9781485307716 | R250 | February
Wegelin presents an introduction to everyday building construction as practiced in southern Africa, from drawing practice, contours and stormwater, materials science and properties, energy conscious construction, masonry house construction, foundations, construction in reinforced concrete, steel and timber, roofs, joinery and external elements. Topics are introduced with a historical review and are lavishly illustrated with photos, maps and drawings. This book introduces the relationship between construction technology and design, essential knowledge for architects, building designers, builders and even building clients. It is prescribed at Universities and Universities of Technology throughout South Africa.
Paul Weinberg | Traces and Tracks | Jacana 9781431424313 | R380 | March
Traces and Tracks: A Thirty Year Journey with the San documents the history and life of the San in Namibia,
Botswana and South Africa. It depicts Paul Weinberg's intimate perspective on the lives of modern-day San over
the past 30 years. In 2013 and 2014, Paul embarked on visits to communities that he had previously encountered.
In these trips he reconnected with many people whom he had known and also acquainted himself with new voices in
these landscapes.
''My work has over the past 30 years sought to work against an essentialised mythologised view of the San.
But for those who have grappled with the story of the modern San, it is neither monolithic nor one dimensional.
My journey has brought me into contact with a range of exceptional people from NGO activists to development
workers, from journalists and flmmakers to academics who work with the San, and like me, have grappled to
answer questions for a fragile culture and attempt to tell their story. The 113 000 San live in three different
countries and speak many different languages. While dispossession seems to be a common thread, the story
of the San, differs from region to region, place to place, community to community. This book engages
with San communities, and attempts to document how recent chapters of history present new challenges and
opportunities.'' – Paul Weinberg
Given that in the past the San were considered 'vermin' and there were proclamations to shoot them on site, the
public identity of anyone with San ancestry was highly precarious in the 18th and 19th centuries. During the
apartheid period, when the country was strictly racialised, there was no category for San or 'Bushmen'. San people
became subsumed under the title 'coloured'.
Ingrid Winterbach | The Shallows | Human & Rousseau 9780798174299 | R275 | March
Painter Nick Steyn moves to Cape Town after separating from his partner, Isabel. A young boarder moves in with Nick and they soon become friends. But one night she does not come home, and his attempts to trace her come to nothing. Could Nick's former friend, Victor Schoeman, the author of the outrageous novel The Shallows, have a hand in her
disappearance? A fantastical, absurd yet haunting novel by the award-winning novelist Ingrid Winterbach.